Stand: How to Rise in Your Calling with Confidence to Leave a Lasting Legacy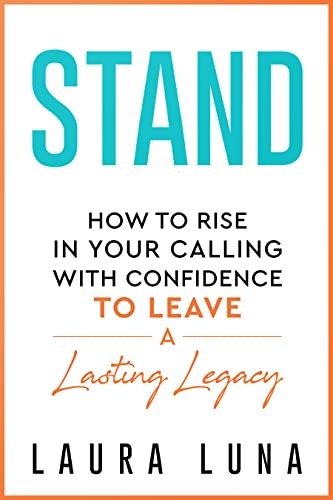 Stand: How to Rise in Your Calling with Confidence to Leave a Lasting Legacy
by Laura Luna
♥ What if YOU could become an unshakeable woman? ♥
Your life matters. And it matters much more than you know. Because, whether you realize it or not, you are surrounded by people who are watching to see how you respond to life's challenges. Your faith can become an inspiration and show them how an overcomer fights…and wins!
In this inspirational book, you'll discover seven keys to victory when you stand on:
His Word…so you are armed and dangerous, no matter what.
Your identity…so there's no shame on you anymore.
Your calling…so you know what your true priorities are.
Your God-appointed circle…so you're never alone in the battle.
You can leave a legacy that will touch everyone around you…and those who come after you. The next generation is waiting for the overcomers to arise and show the way. Will you be one of them?
If you have enjoyed other self confidence books for women – by best selling Christian authors like Joyce Meyer, Havilah Cunningham or Lisa Bevere – then you'll love the fresh wind, fresh fire imparted on the pages of Stand.
Plus, within the pages, you'll find out how to instantly download Laura Luna's free guide, "The Spiritual Power Toolkit." Plus how to join the author's free online community, Stand Confident in Your Calling.
◆ Scroll Up to Get Your Copy Today ◆
If you're going to read a book about being an overcomer, you should probably ask, "What has this author managed to overcome?" In the case of Laura Luna, the answer is: the impossible.
With a childhood marred by sexual abuse and family dysfunction, Laura dropped out of school in ninth grade. She had three children before the age of 19. She then broke her neck in seven places and was told she might never walk again; instead, she walked out of the hospital three days later.
Yet through it all, she stood on the promises of God and persevered against all odds. Her message is simple, "If God did it for me, He will do it for you, too!" But she doesn't stop with platitudes and personal growth tips. She shares the simple yet effective strategies she's found to strengthen herself for the fight...and how to live a well balanced Christian life.
This exceptionally well-written book highlights the compelling story of King Saul's concubine, Rizpah, who happens to be my personal hero. She's a shining example of Christian confidence for women. Rizpah was absolutely determined to pass on a spiritual inheritance to her children, even if it meant standing in the desert for six months, fighting off wild animals and birds of prey. In the end, God used her determination to shift the spiritual atmosphere over an entire nation.
Whatever is coming against you, Stand gives you the courage to fight and keep on fighting. And in the words of the Apostle Paul, "and having done everything, to stand."
God is using Laura to spearhead a movement of women who are determined to stand confident in their calling for the sake of the next generation. This is a message I'm passionate about and I'm excited to see what God will do with this arising army of women warriors!
Donna Partow
Becoming the Woman God Wants Me to Be &
Author of bestselling books including popular Christian living and Christian self-help books