St. Patrick's Jokes Book for Kids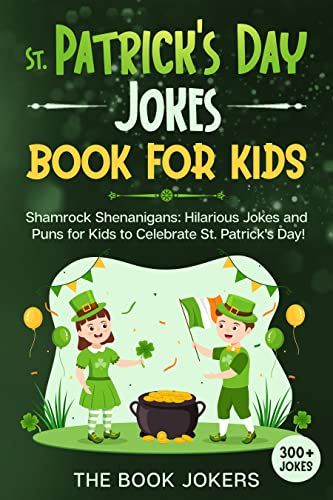 St. Patrick's Jokes Book for Kids
by The Book Jokers

Celebrate St. Patrick's Day with this collection of hilarious jokes! This book is perfect for children ages 8-12 and is filled with funny riddles, tongue twisters, and puns that will have them laughing for hours.
Kids will learn about the history of the Irish holiday, as well as some of the most beloved Irish folklore. With funny illustrations and a variety of jokes, this book will be sure to put a smile on anyone's face! Perfect for reading aloud in the classroom or at home, this St. Patrick's Day Jokes book is sure to bring joy to your family.
"St. Patrick's Jokes Book for Kids: Shamrock Shenanigans" is an absolutely delightful book that is perfect for children of all ages. This book is packed with clean and clever jokes and puns related to St. Patrick's Day, which are sure to bring a smile to anyone's face. The jokes are written in a fun and engaging way that kids will easily understand, making it a great resource for parents and educators who want to entertain and educate children at the same time. The illustrations are also fun and colorful, adding to the overall appeal of the book.

Here are good reasons to buy this book:
This book brings the humor and joy of St. Patrick's Day to life for children.
The jokes are not only funny, but they also provide a fun way for children to learn about Irish culture and traditions
It's clear that the author has put a lot of thought and care into creating a book that is both entertaining and educational.
Overall, "St. Patrick's Jokes Book for Kids: Shamrock Shenanigans" is an excellent addition to any child's bookshelf.
It's a fun and lighthearted book that will provide hours of entertainment for children.
It helps children develop their sense of humor and appreciation for language
We highly recommend this book to parents, educators, and anyone looking for a fun way to celebrate St. Patrick's Day with kids. Get your copy today!