Spiritual Herbalism: The Beginner Herbalist's Companion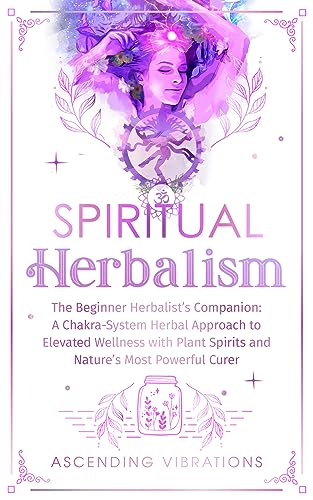 Spiritual Herbalism: The Beginner Herbalist's Companion
by Ascending Vibrations

Since time immemorial, herbs have existed within the fabric of reality, and we can't begin to comprehend how much wisdom and energy they have absorbed from the universe.
Alternative medicinal systems have been around for much longer than modern pharmaceutical medicine, but they are no longer the main form of healing.
Have you been suffering from ailments that you just can't seem to get to the bottom of?
As a society, we now rely on doctors and pharmacists to prescribe treatments for a plethora of symptoms diagnosed in isolation. This is in direct contrast to traditional practices, such as Ayurveda, homeopathy, and Reiki, which seek to understand the true causes behind our symptoms.

These causes often have their roots in energetic or metaphysical origins.
Spirituality has been a part of healing medicine for thousands of years. Mother Nature's spirit weaved her magic through plants, giving us access to thousands of healing and revitalizing herbs. A harmonious relationship between people and Mother Nature was vital for creating a happy and healthy balance.

Today, this balance has been lost to so many of us. But reconnecting with this powerful natural force doesn't have to be difficult.
In fact, it's easier than you can imagine.
You will discover:
A never-before-seen chakra approach to spiritual herbalism
How to build a stronger bond with the plant spirits as your herbs grow
The gut-brain energy link and why it could uncover the mystery of your symptoms
How lunar energy can be transmuted to soothe digestive issues
An incredible way to infuse your bath with the goodness of herbs
What to try if typical treatments for upper back and shoulder pain have no effect
The overlooked place in your anatomy where a painful unprocessed emotion could be hiding
What could encourage lucid dreaming and incredibly vivid dreams
The simple wildcrafting etiquette that can make for far more effective herbs
The fastest way to extract beneficial properties for beginner herbalists
Why choosing herbs that align with your ancestry could prove more potent
Home tinctures and tea recipes for targeting each chakra
The post-storm secrets to bountiful wildcrafting
A treasure-trove of *online resources*, including a chakra video course with over four and a half hours of empowering content, energy-tapping videos, powerful guided meditations, journals, & so much more.
Applying a spiritual approach to herbalism is about more than just what herbs can do for your body. The plant spirits and energy from Mother Nature herself will also act as tonics for your own spirit. Our plant allies want to help and heal you, no matter your background, history, or lifestyle.
So if you want to bring joy, positivity, and a renewed connection with the greater universal intelligence into your life, turn the first page.