So You're Divorced, So What? | A Guide to Living Your Best Life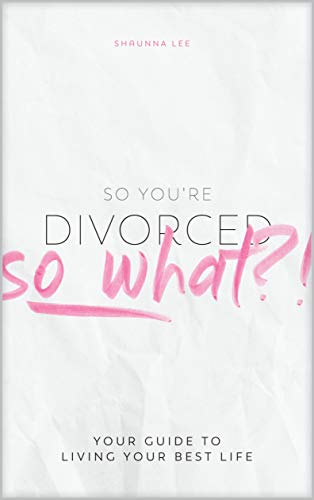 So You're Divorced, So What? | A Guide to Living Your Best Life
by Shaunna Lee

So You're Divorced, So What? is a pragmatic and uplifting guide to recovering from a divorce and claiming the life you've always wanted. Shaunna Lee has successfully recovered from divorce three times, and candidly shares her experience in navigating these wrenching events. All three times she's found strengths she didn't know she had, and has emerged as a clear-eyed and compassionate coach for women navigating their own life journey.
This is not a "How to Get Divorced" book, but rather an inspirational take on how to truly thrive in your newly single life, regardless of how long it's been since the ink dried on your divorce decree.
This book is for you if you are...
So You're Divorced, So What? Is the self-help book for people who dislike self-help books, and those who love them. If you want to improve your life, but aren't sure how to get started, this is your guide to finding your way through despair to a life you'll love.
By the end of So You're Divorced, So What?, you will discover who you are, who you are meant to be and how to bridge the two. If you are ready to embrace your future and create your best life, this book is for you.
Ready to shift your feelings of loss and chaotic emotions into a sense of peace and well-being.


Ready to transform your relationship with your ex into one that is easy and smooth.


Ready to become the most supportive mother possible for your children.


Ready to let go of your anger and shame once and for all.


Ready to take action and create a life of your dreams.