Snips and Snails Mystery Cafe Book I-III BOXSET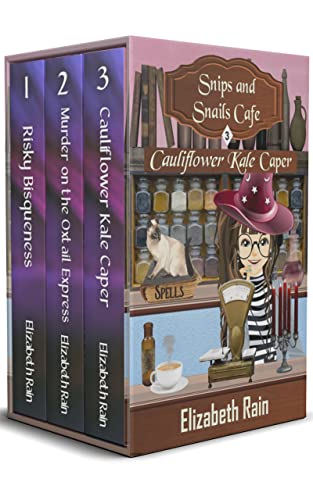 Snips and Snails Mystery Cafe Book I-III BOXSET
by Elizabeth Rain

Get the Series Boxset that's readers are calling a "Seat of your Pants Thriller". Bursting with intrigue and saucy deliciousness. Fill your bowl with a dose or Murder, Mayhem, and Magic...
RiskyBisqueness…
Getting older shouldn't be a long downhill slide into obscurity. It should be the other half~The Best Half...
That's what Julienne Mason told herself as she stared at herself in the mirror the morning after her 40th birthday...
Husbandless...Jobless...Childless...
Julienne Mason's Ego has taken a Beating. In the space of a day, she nearly burnt down the pizza parlor, lost her job, and walked in on her cheating rat of a husband.

With nothing to show for a lifetime of chasing the Joneses and trying to conform to everyone else's expectations but her own...Juli is more than ready for a change of lifestyle. But nobody ever told her that answering the summons to a strange letter would turn her entire life on a dime, and challenge every notion she's ever had on what normal is...
Add in a Strange Inheritance, an Overbearing Ghost, A Snobbish Talking Cat, and a Sentient Recipe Grimoire; Sprinkle Liberally with Magic...
And Maybe even Misfits like her deserve a second chance to get things right...
But first she'll need to solve her Uncle's Murder and learn to Embrace her inner Witchiness...before she runs out of time and the killer Strikes Again...
Murder on the Oxtail Express…
Juli's job to make sure the Soup of the Day delivers...a daily dose of magic that is...
Life after 40 can be a challenge...what with too many gray hairs to pluck, all the sagging and bagging, and a faulty internal temperature control...
Moonlighting as Veil Falls Amateur Sleuth helps keep her in coffee beans and pays the heating bill.

When Mr. Fried and extra crispy shows up in bed at the local Retirement home and they flag her good friend Jacob for the crime, Juli decides to take the case.

...and then they realize they have the wrong guy...

The real resident is missing...and the identity of the victim is a mystery...
And someone isn't too keen on Juli solving it...
Cauliflower Kale Caper…
Life for Veil Fall's very own Resident Soup Witch, Juli Mason, is looking up. Snips and Snails is a raving success, there's Romance in the air for her and Jack, and she has solved her first two murders. Proof positive that life after 40 doesn't have to be slippers and her favorite soap opera. Instead, she's reinventing all her best girlhood dreams…with a touch of Magic.
She should have known better.
Because now there's a dead body in the pantry of Lovelace Resort.
Is he the hapless victim of the fastidious chef because he didn't do the dishes?
Or was his death the result of a million-dollar heist gone wrong?
…If that's not complicated enough, Grams' sister Annabel is sending her distressing messages asking for help from beyond the grave…
Before she knows it, Juli is on the case, chasing baddies, finding clues, and whipping up the right magical recipes to save them all.
Get Books 1-3 from the Series in one little Boxset full of Mysterious Deliciousness...