Small Magic: Short Fiction, 1977-2020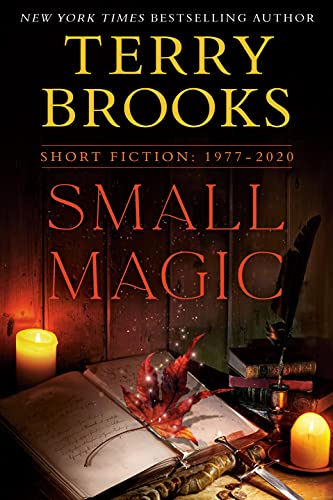 Small Magic: Short Fiction, 1977-2020
by Terry Brooks

Escape to worlds full of adventure and magic in the first-ever Terry Brooks short-story collection, featuring both new and fan-favorite stories from all three of his major literary worlds: Shannara, Magic Kingdom, and The Word and the Void.

Here are heroes fighting new battles and struggling to conquer the ghosts of the past. Here are quests both small and far reaching; heroism both intimate and vast. Here we learn of Garet Jax's childhood, see how Allanon first located Shea Ohmsford, and follow an old wing-rider at the end of his life. Here we see Knights of the Word fighting demons within and without, and witness Ben Holiday and his daughter each trying to overcome the unique challenges that Landover offers.

This collection of eleven tales is a must-have addition to the Terry Brooks canon—a delightful way to spend time with favorite characters, and a wonderful reminder of what makes a Brooks story such a timeless classic.