She Hates Me Not: A Richer in Love Romance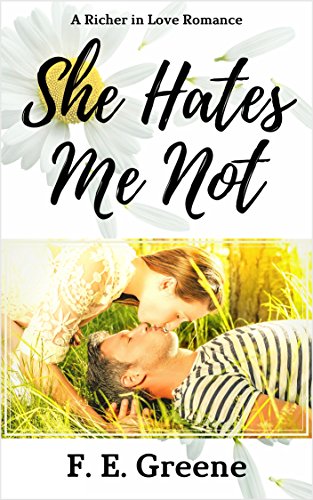 She Hates Me Not: A Richer in Love Romance
by F. E. Greene

A fun and flirty romance with a hint of suspense from the author of the Love Across Londons series. Sweet. Clean. A perfect beach read!

He's Britain's "uncatchable" bachelor. She's trying not to get caught.

Lou Aucoin has carved out a simple life for herself in the charming English town of Stratford-upon-Avon. Although it's an ocean away from her childhood home in the bayous of Louisiana, Stratford offers something which St. Charles Parish doesn't: safety from a threat that Lou never helped to create.

But one impulsive choice jeopardizes Lou's "safety first" world. After agreeing to go on a blind date in exchange for money to pay her sister's medical bills, Lou is required to attend the Stratford Gala with a man she hates - even though they've never met.

It turns out that Kip Richmond, "Britain's most uncatchable bachelor," is anything but easy to hate. And Kip feels nothing but love for Lou. Can Lou make room in her life for a man she's supposed to hate, especially when his every move may end up on tomorrow's front page?

Set against the delightful backdrop of Stratford-upon-Avon, She Hates Me Not blends heartwarming romance with mild suspense as Lou and Kip confront their troubled pasts in the hopes of loving again. It is the seventh novel by F. E. Greene and first in the Richer in Love romance series which can be read in any order.

Romance Heat Scale: Mild/PG. No detailed sex scenes, profanity, or graphic violence.