Self Love Self Worth & Vocation| The Power of Your Past & the True calling of Your Soul!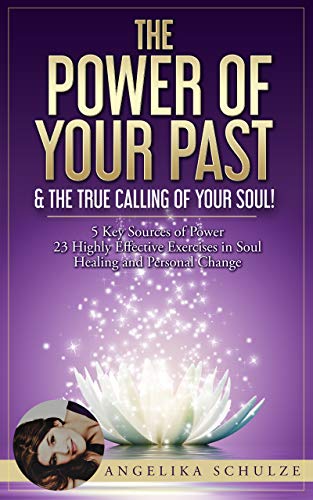 Self Love Self Worth & Vocation| The Power of Your Past & the True calling of Your Soul!
by Angelika Schulze

Yes, You Can Lead A Fulfilled and Happy Life - This book is about overcoming low self-worth & finding clarity when it comes to the purpose of your life!
"Many people believe they are living their authentic life but are they really?"

"The visualization exercises were out of this world."
"The chapter 'Create your own tomorrow' was amazing."
"The section on low self-worth was a revelation as I have read many books on the subject but I finally feel I have discovered a technique to overcome it."
- Reviewed by Lesley Jones, Readers Favorite

"This book has step-by-step guidance on how to improve your life which breaks down anything complex. This book takes you on a journey through your past, present and future to ensure that your life is filled with positivity and prosperity."
-Reviewed by Rachel Whyman

"Don't expect this book to be a common guide of self-love where we believe that we are very different from the author. Angelika tell us, right from the beginning, that she has passed through some of these experiences. She is not different from us. This is very important as us, readers, need to fill a connection to the author and see that we can achieve happiness like she has."
-Reviewed by Beatriz Sousa
You can break free from the demons of your past, reclaim your self-worth, learn to love yourself and live the life you've always wanted.
This life-changing book will show you how to improve your feelings of self-worth and become aware of your full potential to recognize your mission and vocation here on earth.
Each chapter will take you on a journey into the very depths of your mind and teach you how to build confidence in yourself and achieve your goals. You will face your fears and self-limiting beliefs - and this time, you won't let your experiences control you!
This book will empower you to:
See your past as your source of strength, not pain
Stop sabotaging your own success
Open your heart to love yourself and others
Recognize and develop your unique potential
Heal and accept your past with forgiveness
Cultivate and train your intuition
Lead an authentic and fulfilling life
Teach you how to achieve your goals - whatever they are!
Each chapter comes with visualizations, practical exercises and mantras - personal transformation has never been so practical and simple!

Reprogram your past. Know your self-worth. Learn to love yourself. Acknowledge your intuition. Activate your visualization.

I invite you to come on a journey of self-discovery and revelation of deep soul healing.
In The Power of Your Past & the True calling of your Soul, I share all exercises of my greatest breakthrough moments.
And as you follow along, you'll discover the truths behind your own wounding beliefs about how uniquely worthy, powerful, and gifted you are. This is the book that I, once upon a time, so badly needed. It could have saved me from years of heartaches and struggles. It is the book that I know will transform the lives of so many who struggle with their self-worth and self-love.
Are you ready to take your first step towards freedom?
Scroll up, click the "Buy Now with 1-Click"