Runaway Alex (Alex and Alexander Book 1)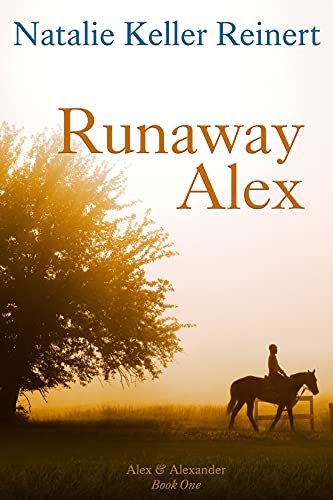 Runaway Alex (Alex and Alexander Book 1)
by Natalie Keller Reinert

If you could escape the life your parents chose for you, would you do it?
Horse racing isn't for nice girls like Alex. She's been told again and again: stick to horse shows, stick to riding lessons, stick to the relative safety of the suburban equestrian center where she has been a working student since grade school.
But Alex can't shake the conviction that the Thoroughbred life is her destiny.
When her unstable trainer cuts her off from horses, Alex finally has to obey her instinct to run away from the safe version of life. She heads to Ocala, where horse racing is king, with no plan and no leads on jobs. When she meets handsome, successful racehorse trainer Alexander White, she feels an instant connection with him. Could this be her dream come true?
Falling for Alexander and learning to stay on young racehorses all at once: that's risky business. But it's a risk Alex is willing to take — until a storm of emotion threatens to founder her new life. Nothing at Alexander's gorgeous Thoroughbred farm is as simple as it seems, and she's not the only one lining up for Alexander's affection — or his horses.
How many times will Alex obey her urge to run away when things get too real? And what happens to her dreams if she can't stay the course?

Gallop headlong into a world of beauty, love, and risk with this stunning women's fiction novel!
The Alex & Alexander Series
First published in 2011, the Alex & Alexander Series explores the hearts and minds of the people who make a living in Thoroughbred horse-racing. Originally beginning with a short novel entitled The Head and Not The Heart, the series was expanded in 2020 to provide a smoother reading experience.
The series includes:
1. Runaway Alex

2. The Head and Not The Heart
3. Other People's Horses (Semi-Finalist for the Dr. Tony Ryan Book Award, for horse-racing literature)
4. Claiming Christmas
5. Turning for Home (Finalist for the Dr. Tony Ryan Book Award, for horse-racing literature)
Praise for The Alex & Alexander Series
"[Alex is] easy to relate to–equal parts doubt and hope, insecurity and confidence. I think she's inspiring, and will nudge her readers to face their own crises."
– Melaina Phipps, Saratoga.com
"The writing is beautiful, and if you love horses, she doesn't dumb it down. She concentrates what makes horses so compelling."
– Alexa Shelton, Amazon review