Ruby Callaway: The Complete Collection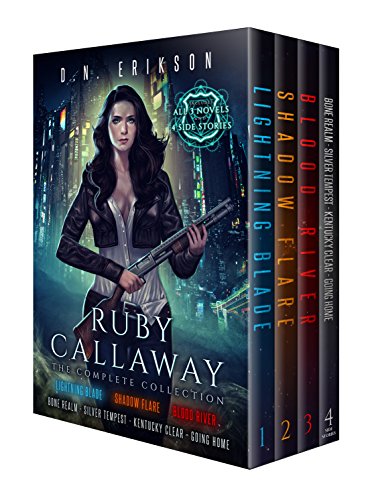 Ruby Callaway: The Complete Collection
by D.N. Erikson

USA Today Bestseller • Top 25 Amazon Bestseller

All three Ruby Callaway novels and all four side stories together for the first time—1,100+ pages of snarky urban fantasy perfect for fans of Kate Daniels and The Dresden Files.

It all started with a death: her own.

Ruby Callaway is the most feared supernatural bounty hunter in the world. But even Ruby has limits. And, after two centuries, she might have finally met her match.

Spanning over two hundred years, from her origin story in 1812 (Bone Realm) to her battle against the corporate monolith MagiTekk in the near-future (Lightning Blade), Ruby Callaway: The Complete Collection is not your typical urban fantasy.

But, then, Ruby isn't your typical bounty hunter.

Ruby Callaway: The Complete Collection contains all three full-length novels in The Ruby Callaway Trilogy: Lightning Blade, Shadow Flare, and Blood River. It also includes all four of Ruby's side adventures fleshing out her two century backstory, previously only available to subscribers of D.N. Erikson's newsletter. These include two novellas: Bone Realm and Going Home, and two side stories: "Silver Tempest" and "Kentucky Clear."