Romancing the Summer: 10 Sweet Summer Reads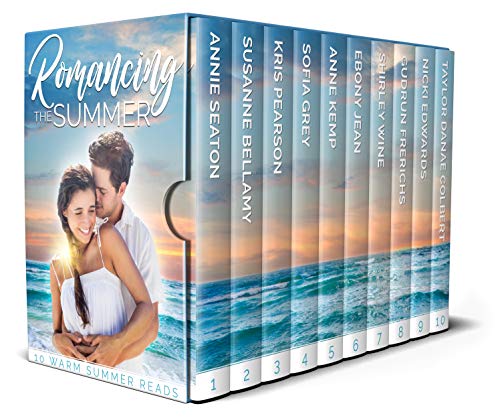 Romancing the Summer: 10 Sweet Summer Reads
by Taylor Danae Colbert

Ten gorgeous summer-themed romances from award-winning authors all around the world. Warm and witty, diverse and dramatic, and every one outrageously romantic. Curl up with a cool drink and your favorite treats to enjoy these ten great reads. * Only 99 cents US, or free on Kindle Unlimited *

From Annie Seaton - Love at first sight…
From Susanne Bellamy - Taking a chance on love.
From Kris Pearson - Tropical Maui weaves its romantic spell.
From Sofia Grey - The language of love couldn't be more complicated.
From Anne Kemp - Friends, fireworks and a surprise romance.
From Ebony Jean - Fake fiance turns into real love.
From Shirley Wine - Romanced and scammed - who can she trust?
From Gudrun Frerichs - The war is over, but the fight is just beginning.
From Nicki Edwards - An adventure of the heart in the Canadian wilderness.
From Taylor Danae Colbert - Home is where his heart is.