Risking it All: A Standalone Enemies-to-Lover Romance (The Billionaire's Lust Collection Book 3)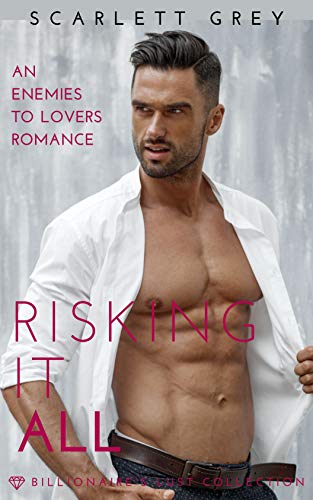 Risking it All: A Standalone Enemies-to-Lover Romance (The Billionaire's Lust Collection Book 3)
by Scarlett Grey

I'll admit it...I've had it easy.
Owner of the hottest nightclub in town.

Play hard, make money.
Play some more.
It's a pretty sweet life with women galore.

And then "she" fell onto my lap.
But not quite.
Elegant and angelic, Iliana Romanova.
I want to add her to the list of trophies.

But she refuses to play my game.
Independent, strong - she walks over my rules.

She doesn't know who she is messing with.
I've always got what I want.
And I want her even more.

Not a chance in hell am I falling for her.
I'll show her who's throne this is.

That's the game, and now?
I'm going to win her.
This time, for keeps.

Risking it All is part of the Billionaire Lust Collection and is a steamy Enemies-to-Lover story that will get you hot and keep you on your toes. No Cliff-hangers, No Cheating and a Guaranteed Happily Ever After! Each book can be read as a standalone. Transport yourself into vibrant and magical town where the hottest spot is: Club LUST, as we follow six bad boy, possessive and alphalicious Billionaire's in their quests to navigate round unchartered territory, love.