Rise of Magic Complete 2-ARC Omnibus:: Includes the first EIGHT books in the Epic Fantasy series!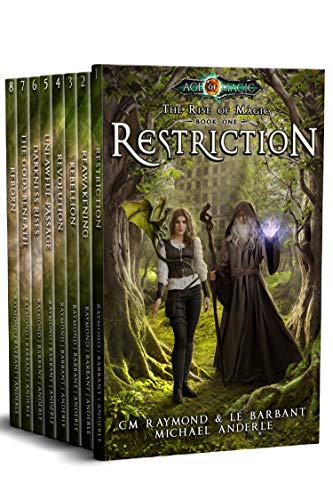 Rise of Magic Complete 2-ARC Omnibus:: Includes the first EIGHT books in the Epic Fantasy series!
by Michael Anderle

"Any sufficiently advanced technology is indistinguishable from magic…" Arthur C. Clarke
She didn't mean to use magic
She didn't even know she HAD magic
She just wanted to save her brother, who was dying in her arms.
Accused of using illegal magic, and sentenced to a cruel death at the hands of the Arcadian Guards, Hannah has no choice but to trust in the aid of a strange old wizard who offers her the gift of unimaginable power.
But power has consequences, and soon Hannah is at the center of a city-wide war to take back the future that was stolen from them. Can she control the power that courses through her? Can she unite a team of heroes from different walks of life? Can she bring justice to Arcadia?
The Rise of Magic is an epic fantasy, set in the far future, where magic and monsters ravage the land of Irth and only the strong survive.
The Complete Second Arc Of The Rise Of Magic
Even heroes need a vacation.
Unfortunately, Hannah and her friends chose the wrong beach.
The Oracle needs help. She's dying, and only Ezekiel knows that the world will die along with her.
Hannah and her team take up the call without hesitation.
The only problem? It takes a freaking long time to cross the world.
While putting their quest on hold for a much needed rest stop and resupply, Karl, Hadley and Laurel get captured by some angry locals, who accuse them of kidnapping their leader's son.
Hannah and Parker head to the rescue, leaving Gregory alone to guard the airship on a remnant infested hilltop.
What could possibly go wrong?
Set on the foundation laid by the Kurtherian Gambit Series, The Rise of Magic tells an entirely new story of the future of our world, and of the heroes and villains who battle for control of its destiny.
Read now and discover the Rise of Magic…
The Rise of Magic Omnibusincludes the first full 2-arcs of the series (books 1-8):
Restriction
Reawakening
Rebellion
Revolution
Unlawful Passage
Darkness Rises
The Gods Beneath
Reborn
Go Up and click Read For Free or Buy Now and join Hannah in the Rise of Magic!