Red-Line: The Shift: An Edge-of-Your-Seat Paranormal Suspense Novel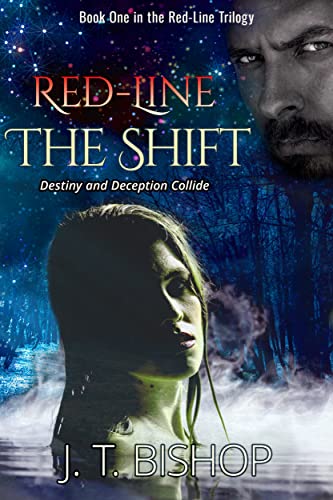 Red-Line: The Shift: An Edge-of-Your-Seat Paranormal Suspense Novel
by J. T. Bishop

Yanked from her predictable life and thrust into a new one, one woman is shocked to learn that everything she believes about herself is wrong. One man must keep her alive. But an adversary waits in the wings…

After a difficult year, Sarah Randolph is living a solitary life. But after meeting a handsome stranger, she's hopeful her luck is about to change. When their first date turns dangerous though, she'll discover that she's the one about to change...in more ways than she can imagine.

After that frightening encounter, John Ramsey will be forced to remove Sarah from her quiet existence. He'll risk everything, including himself and the lives of the group he's assembled, to keep her alive and prevent an unexpected rival from using her for his own cruel desires.

Thrust into a life-altering event, Sarah must trust a man she hardly knows who's revealed shocking truths about her origins. If she survives, she'll face a decision that could promise unending love but also unimaginable pain.

For Ramsey, falling for Sarah was never part of the plan. But as the danger grows, and an adversary reveals himself, Ramsey will stop at nothing to protect the woman whose secrets could save his community, but whose love could save him.

Despite the danger and the odds against them, their unique destiny and an unexpected enemy collide, and their only hope for survival may be each other.

Red-Line: The Shift is book one in J. T. Bishop's enthralling and suspenseful Red-Line trilogy. It contains elements of light sci-fi, urban fantasy and paranormal romance, If you love charismatic characters, unexpected twists and a daring love story, you'll love this page-turning series by award-winning author J. T. Bishop.