Rebel Dragon (The Dragons of Esternes Book 1)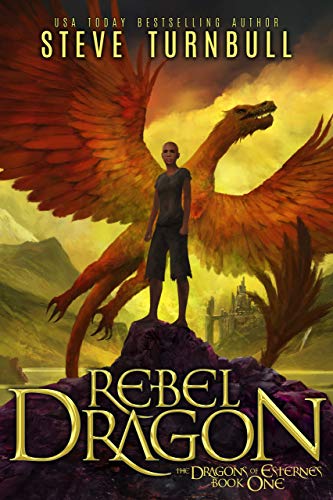 Rebel Dragon (The Dragons of Esternes Book 1)
by Steve Turnbull

What value is freedom when you can't even ride a dragon?
As the life of a slave goes, Kantees doesn't have it too bad. Being responsible for a racing dragon means her existence is more than just drudgery and fear, even if her life is at the whim of her masters and their rules.
But when her dragon wakes her in the middle of the night Kantees is forced to make a life-or-death decision that breaks her masters' rules and means her own life is forfeit.
Escaping on the back of dragons, with a hodgepodge of unwelcome associates, she attempts to right a wrong that can never be fixed. Until, ultimately, she must put her own life on the line to keep the freedom she has stolen for herself.
The first book in the Dragons of Esternes Epic fantasy series.
Interview with the Author

Q - So, what makes the Dragons of Esternes series special?

A - I don't think there's just one thing that sets them apart because what I wanted to do was to write the kind of book that I like to read when it comes to fantasy. My favourites usually involve dragons and my first read was Anne McCaffreys' Dragonriders of Pern, though movies like Dragonheart and Dragonslayer certainly appealed to me too.

Of course the Dragonflight books aren't technically fantasy but in a similar way the Patterners World, which is where these books are set, also have a very strong scientific background, although in this case it really is pure fantasy.

I don't like books with padding, to be honest, I don't think anyone does. That's one thing you won't find here. The stories are taut and fast-paced, they will keep you turning the pages - there's never a dull moment.

Then with a POC lead character and a wealth of interesting supporting characters, plus a unique take on Dragons themselves I don't think there's much not to like.

Q - What order should I read the books in?

A - There's just the four books and this is the order:

- Rebel Dragon
- Outlaw Dragon
- Heretic Dragon
- Battle Dragon

There is a prequel "Racing Dragon" but that's only available to my newsletter subscribers.

Q - So, who should give these books a try?

A - Anyone who wants a unique approach to fantasy, in a world that is both familiar and utterly different. But ultimately anyone who loved Anne McCaffrey's Pern books, Anne McCaffrey, Christopher Paolini's Eragon series, or writers like Naomi Novik and Robin Hobb. Or maybe they just want to have their own dragons like Daenerys Targaryen.
Dragons of Esternes Series eBook Categories:

- Epic Fantasy
- Swords & Sorcery
- Dragons and Mythological Creatures
- Private Detective Novels
- Fantasy Best Sellers
- Fantasy 100 Must Reads
- LGBT Fantasy Series