Rabbit Holes & Pepper Spray, Book 1: A Young Adult Urban/Portal Fantasy Series: (Book 1)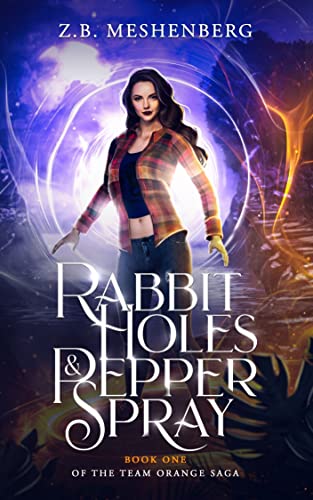 Rabbit Holes & Pepper Spray, Book 1: A Young Adult Urban/Portal Fantasy Series: (Book 1)
by Z. B. Meshenberg

From the Booktok Author Z.B. Meshenberg comes an epic Urban Fantasy adventure like no other! Set in a reality unlike any you've ever encountered, this book contains within it a portal to a power that should not be underestimated: your own...


"Some people get a wardrobe or a white rabbit. We got an orange."

Hazel just wanted to finish high school in peace. Life had other plans. Why else would a glowing orange kidnap her and her friends?

Taken to a dream island, the four teens find out the truth: magic is real, everyone has superpowers, and a dark secret has been buried in the air.

In a world of dreams and lies, can these four friends make it through the test of their lives? Or will they fall prey to the secret behind that shadowed smile?



This empowering tale of magic, deception, and inner strength features snarky banter, found family, close friendships and a quest to return home. Scroll up and click Read for FREE on Kindle Unlimited or Want to Buy for your chance to enter the Other Side of Reality today!