Prove Them Wrong: Defying All Odds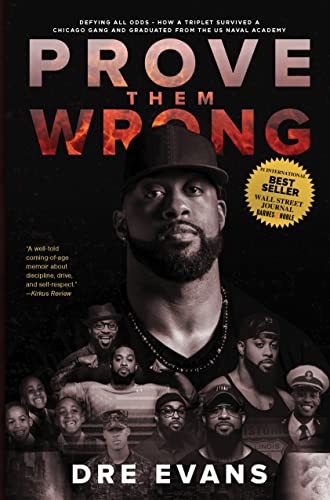 Prove Them Wrong: Defying All Odds
by Dre Evans

★★★#1 WALL STREET JOURNAL & INTERNATIONAL BEST SELLER ★★★

YOU NEED TO STOP.
This is a book for people who want to take action.

At twelve years old, Dre Evans felt proud to participate in his first drive-by shooting.

Everyone craves belonging and purpose in life. How far would you go to satisfy that need? Dre started by joining a Chicago street gang. But one terrifying day, as bullets flew past his head, he wondered if that desire was worth dying for.

What happened next shocked the entire city.
Dre and his brothers made history by becoming the first set of African-American triplets accepted into the U.S Naval Academy.

In this unfiltered, addictive, page-turning memoir, Dre shares his gripping story, challenges the stigma surrounding the word "gang," and offers a fresh perspective on how to take your potential to the next level. If you feel drained or desire to increase your income and impact in life, Prove Them Wrong shows you how to make any situation work--for you.

What if you had the power to:
Fight through lack of motivation and fear
Rewire your mind and gain self-discipline
Understand your traumas and heal from them
Get clarity on who you are as a person and your purpose
Reprogram how you respond to adversity
Run through life on your own terms
Rise above the odds placed on you by society, work, family, and friends
Use pain as fuel to accomplish your dreams
This book punches you in the face with that power.

Prove yourself wrong. Prove your circumstances wrong. Prove your limitations wrong. Prove everyone wrong.

DO IT NOW.