Preacher on the Run: A Novel of the Regulator Uprising (For Liberty and Conscience Book 1)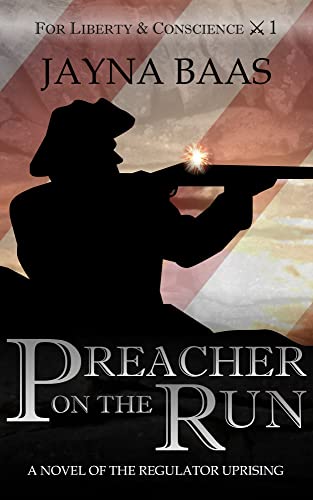 Preacher on the Run: A Novel of the Regulator Uprising (For Liberty and Conscience Book 1)
by Jayna Baas

STANDING FOR TRUTH COULD COST HIM HIS FREEDOM.
FIGHTING FOR FREEDOM COULD COST HIM HIS LIFE.

It's 1771, and North Carolina is at war. On one side stands established religion and the power of the Crown. On the other side stands a dangerous freedom of conscience.

Robert Boothe has spent the last four years leading the tyrant-hating Regulators against North Carolina's corrupt British government. All he wants is a safe place for his little Baptist church to live and worship God.

But choosing sides has made Robert a target. The Church of England wants him to shut up. The governor wants him dead.

Buy your copy of this engaging Christian historical novel and step into a nation on the verge of the Revolutionary War.