Poseidon's Storm Blaster: An Illustrated Fantasy Adventure Chapter Book for Kids 6-10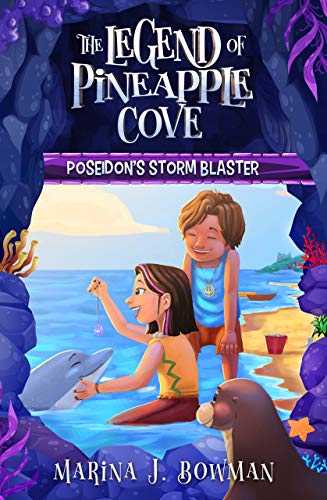 Poseidon's Storm Blaster: An Illustrated Fantasy Adventure Chapter Book for Kids 6-10
by Marina J. Bowman
A mysterious island. A hidden magical item. And two unlikely friends that must brave the sea to save their home.
10-year-old Kai is thrilled to be chosen as a junior protector of Pineapple Cove. But when a sea monster threatens the island, Kai isn't sure if he's the right protector for the job.
Island girl Delphi longs to be accepted by the rest of the Cove. But when you're terrified of water and your only friend is a sea lion, fitting in is not so easy.
Can Kai and Delphi work together to defeat the sea monster and save Pineapple Cove?
Poseidon's Storm Blaster is the first book in the enchanting Pineapple Cove middle grade fantasy-adventure series for kids. If you like reimagined mythology and animal side kicks, then you'll love Marina Bowman's legendary story.
Get Poseidon's Storm Blaster to share the gift of imaginative adventure today!
FREE Bonus Gift
For a limited time, you can get a FREE copy of the Audiobook the Legend of Pineapple Cove: Poseidon's Storm Blaster. Be transported into the world of Pineapple Cove with unique character voices, music, and sound effects. Find out how to get your FREE copy in the front of the book.

What Readers Are Saying
"I loved reading Poseidon's Storm Blaster to my kids. It was full of adventure! We all couldn't wait to see what was going to happen next. I also loved the lessons of kindness and bravery that the main characters showed. Definitely check this book out!!" - Amazon Customer
"My 8 and 10 year old thoroughly enjoyed this book. It is a great intro to chapter books style read. The book is engaging and kept both their attention to complete it in a single sitting. The hidden pineapple game was a nice touch and really drew each of them in." - Arcticus
"This is such a great book to either read or listen with kids by chapters! We also have the coloring book and it's the perfect companion. We decided to color the page corresponding to the chapter we were hearing! You will love it!" - Leslie
Ages 6-11 | Kids Chapter Books | Fantasy Adventure + Mystery Series
For Fans of:
- Magic Tree House books
- The Boxcar Children
- A to Z Mysteries
- Diary of a Wimpy Kid
- Legend of the Star Runner
- Captain Underpants
- Dog Man
- Nate the Great
- Junie B Jones
- Ivy and Bean
- Never Girls books
- The Princess in Black
Shelve Under:
- kids books
- audio kids books
- children's ebooks
- chapter books
- intermediate readers
- action & adventure
- mysteries & detectives
- fairy tales, folk tales & myths
- greek & roman
- multicultural