Pineapple Mystery Box: A Pineapple Port Mystery: Book Two (Pineapple Port Mysteries 2)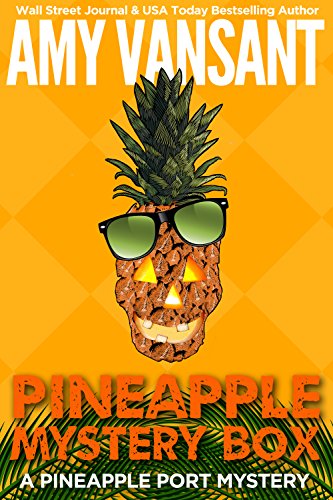 Pineapple Mystery Box: A Pineapple Port Mystery: Book Two (Pineapple Port Mysteries 2)
by Amy Vansant

Something funny's going on in this funny Florida Halloween mystery… and it isn't just the inflatable witch on the roof!
Book TWO of the laugh-out-loud mystery series from Wall Street Journal and USA TODAY Best-Selling author Amy Vansant. If Janet Evanovich's Stephanie Plum and the Golden Girls had a baby, it would be the Pineapple Port series!

When a giant inflatable Halloween witch goes missing in the Pineapple Port retirement community, amateur sleuth Charlotte Morgan's eager to nab the culprit. But before she can lift a fingerprint, someone threatens to kill a new neighbor who looks like an adorable Pomeranian but possesses a disturbing talent for revenge. Moments later, a stranger demands the return of a mysterious wooden box… or else.
Charlotte's romantic interest, Declan, isn't having a great morning either. His calculating ex-girlfriend has returned to claim she's the rightful owner of his pawn shop. She's livid he's found a new lady, and she is not the sort of person you want angry at you…
Eh. Things could be worse. At least Charlotte doesn't know that a mojito-swilling killer is on his way to Pineapple Port…
The wacky retirees of Pineapple Port are eager to help Charlotte solve the mysteries, as long as it doesn't interrupt their water aerobics schedule.
The Pineapple Port Mystery Series is a cozy mystery with edgy twist that will keep you on the edge of your seat and keep you thinking. Fans of Agatha Christie, Lilian Jackson Braun and Rita Mae Brown won't be able to get enough of this fabulously funny, mysterious world!