Pineapple Jailbird: A funny, thrilling & cozy mystery (Pineapple Port Mysteries Book 8)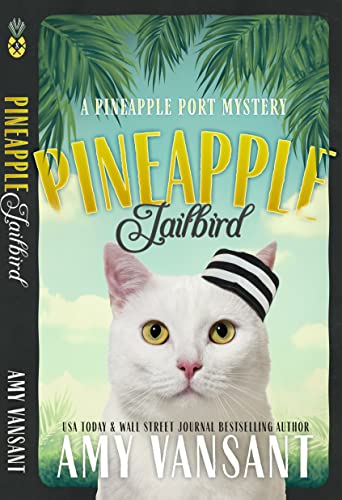 Pineapple Jailbird: A funny, thrilling & cozy mystery (Pineapple Port Mysteries Book 8)
by Amy Vansant

Book EIGHT of the hilarious Pineapple Port mystery series from Wall Street Journal and USA TODAY bestselling author Amy Vansant has Charlotte awaking to find Mariska and Bob gone, kidnapped from their home.
Enter the series at any book - each is a complete standalone mystery!

Their disappearance brings with it a message from a familiar killer: Help me or your friends will disappear.

"Loved! This is my favorite of the series! I LOVED it! So many secrets revealed! So many things happened! I couldn't put it down!! I love love loved it!" ~ Amazon Reader ⭐⭐⭐⭐⭐

To save her loved ones, Charlotte must find a way to clear her boyfriend's crazy ex of a killing. It may be the only crime the woman didn't commit...but things don't get any easier when someone mistakes Charlotte as a traitor and sends a madman with a distinctive "tattoo" and an unusual gang of deadly pets to stop her.

Fans of comedic mysteries like The Thin Man, Moonlighting, Monk and Elementary will fall in love with the charming, funny, thrilling world of Pineapple Port!
What Readers Are Saying About Amy Vansant and The Pineapple Port Series:
"So fun! I just love all of these fun, cozy mysteries. There are just layers of story lines, a virtual onion of angst and intrigue. I never get enough. I really enjoy how the backstories are gradually unfolding. Add a clean love story and I am all in." ~ Marsha Jeanne Thalleen ⭐⭐⭐⭐⭐

"What fun! Not a mystery novel that has only murder. Novel characters, plenty of laughter, and a serious desire to read just one more chapter. A must buy, you will enjoy the ride!" ~ Louise Sinek ⭐⭐⭐⭐⭐

"What a fantastic mystery! I really enjoyed reading this book. This was an unputdownable book that was loaded with action, danger and suspense, twists and turns, and plenty of mayhem. It would make a great movie." ~ Peggy Flack ⭐⭐⭐⭐⭐