Pelican Cove Cozy Mystery Series Box Set 1: Books 1-4 in Pelican Cove Cozy Mysteries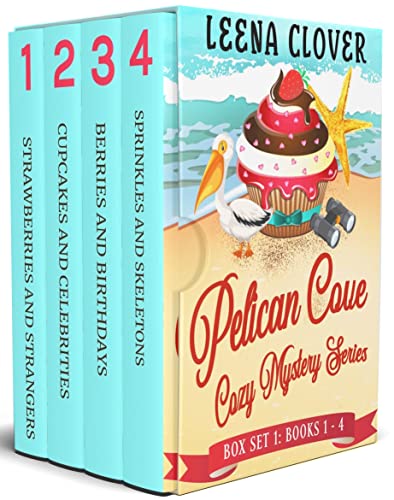 Pelican Cove Cozy Mystery Series Box Set 1: Books 1-4 in Pelican Cove Cozy Mysteries
by Leena Clover

Flour, butter ... Murder! Recently divorced baker Jenny King sifts through a pound of clues and red herrings to catch the killer in this bestselling cozy mystery series thousands love.
5 stars - 'Great storyline. Second time I've read this series and I still loved it.'
When forty four year old Jenny King moved to a remote island for a second chance at life, she didn't know it would involve murder. She's working at the Boardwalk Cafe, baking sweet treats to forget the bitter pill that is her life. Then a stranger's body washes up on the beach and her aunt is arrested. Compelled by circumstances, Jenny goes sleuthing to prove her aunt's innocence.
But who said solving a murder was going to be easy?
Jenny follows a baffling trail of twists and turns as she battles with a disapproving sheriff. Flanked by her newly minted friends, the Magnolias, she digs her feet in and marches ahead, evaluating suspects while serving cakes and muffins with a smile. It's only a matter of time before this amateur sleuth solves the puzzle.
If you like cozy murder mysteries with friendly small towns, beach settings, yummy food and a dash of romance, you will love the Pelican Cove cozy mystery series.
This boxed set collection contains four full mysteries with recipes.
Titles - Strawberries and Strangers, Cupcakes and Celebrities, Berries and Birthdays, Sprinkles and Skeletons.
Available for FREE via KINDLE UNLIMITED