Orphans of War: A Heart-Wrenching Tale of Resistance and Bravery in World War II Amsterdam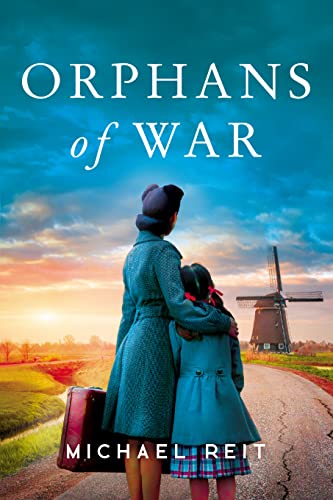 Orphans of War: A Heart-Wrenching Tale of Resistance and Bravery in World War II Amsterdam
by Michael Reit

Amsterdam, 1941.

German forces have invaded Amsterdam. As the tension in the city increases, the Dutch Resistance is born.

Tormented by what is happening in his city, Christiaan joins the Resistance. He risks everything to shield the oppressed and fight for the freedom of his beloved nation.

His brother—Floris—is ruthless and driven to succeed. Promoted to the Bureau of Jewish Affairs, he becomes instrumental in hunting Jews to transport them to the Nazi death camps.

Unable to tolerate Floris' actions, his wife—Nora—defies him by secretly joining the Resistance. She bravely risks her life to save orphans from the terror of the transport train and the horrifying fate that awaits them. All while fearfully deceiving the enemy with whom she lives.

These three find themselves in the middle of a maelstrom that will change the course of human history. As ambition, fear, and desperation collide, no one is safe.

Not the Jewish. Not the Dutch. Not even the powers-that-be.

Readers praise for Orphans of War:

⭐⭐⭐⭐⭐ "...intensely moving and unforgettable book. It is a standout. I am eagerly awaiting the next" – Netgalley reviewer

⭐⭐⭐⭐⭐ "Orphans of War was one of the best books I've read this year. Michael Reit is one of my favorite authors of historical fiction and books who have characters who struggle against Nazi persecution. In Orphans of War his main characters showed strength and courage to accomplish meaningful acts that saved many lives. Whether it was working to save people by hiding them from the Nazis or moving children and babies to safer locations under the Nazi's "eyes", his characters worked tirelessly even though they knew what they were doing could mean arrest and death for themselves. Mr. Reit's extensive research shows in his writing. I wish the book had been published prior to my last visit to Amsterdam so that I might have visited some of the places noted in the novel, not that his writing didn't already make them easy to visualize. I just would have liked to visit them and physically walk through them. Thank you for another great novel and I look forward to your next one." – Netgalley Reviewer

⭐⭐⭐⭐⭐ "this was truly an emotional and touching story. Worth five stars." – Netgalley Reviewer

⭐⭐⭐⭐⭐ "In his latest novel, Reit intuitively paints before us, the lives of a few heroes of the resistance. We become connected to the characters thanks to the author's vivid palette of descriptive phrases and crisp dialogue. The plot is quick and loaded with twists and turns. The reader is continually held in shades of inspired suspense.
There is a rhythm connecting Reit's passages that make the reader flow swiftly from chapter to chapter. Tension and concern are constantly present. The author's books get better and better. Looks like Michael Reit has another winner! Orphans of War is one of those books readers will want to become a series!" – Goodreads Reviewer

⭐⭐⭐⭐⭐ "I loved the Orphans of War.... It is obvious that the Orphans of War was very well researched and I would highly recommend this book to anyone who has an interest in WW2 or even an appreciation of the lengths people will go to for their ultimate survival." – Goodreads Reviewer