Mystic Pieces: A small town paranormal cozy (Shady Grove Psychic Mystery Book 1)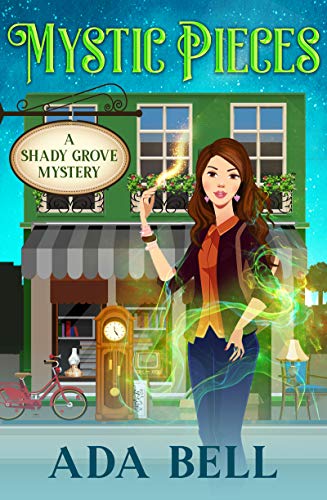 Mystic Pieces: A small town paranormal cozy (Shady Grove Psychic Mystery Book 1)
by Ada Bell

Aly doesn't believe in psychics. Too bad she just had a vision.
Aly's got enough on her plate, with finishing her degree and taking care of her nephew and starting her new job at the antique store while drooling over the owner's gorgeous son. No time for visions.
Alas, the universe doesn't care what Aly believes. When she turns 21, she starts to feel psychic impressions left on objects. A disorienting power for someone surrounded by antiques. Then cranky customer Earl is killed, and Aly's new boss Olive is the prime suspect—not to mention the only person who understands Aly's gifts. Who hated Earl enough to kill? Police would rather make a quick arrest than investigate, so it's up to Aly to clear Olive's name.
Shady Grove is reeling from the first murder in decades. If Aly can get her hands on the right object, she'll know what happened. Can she learn to control her visions before the killer sets their sights on her?