MONSTERS OF THE MIDWAY 1969; Sex, Drugs, Rock 'n' Roll, Viet Nam, Civil Rights, and Football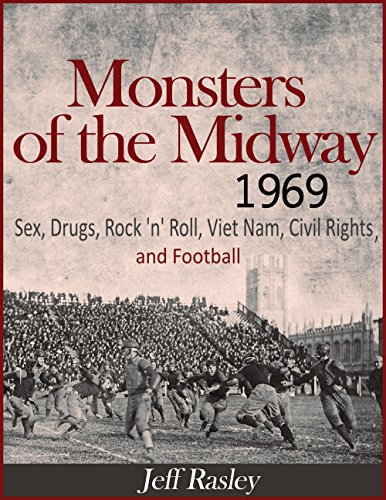 MONSTERS OF THE MIDWAY 1969; Sex, Drugs, Rock 'n' Roll, Viet Nam, Civil Rights, and Football
by Jeff Rasley
From 1892 until the 1930s the legendary Monsters of the Midway dominated college football. However, in 1939 the University of Chicago dropped out of the Big Ten and killed off its varsity football program.

But now, it's 1969 and football is back. The resurrection of Chicago football hasn't brought the Monsters fully back to life. The team plays more like the lab mice of the Midway. The new Maroons are called "the worst team in college ball" by People Magazine. Players refuse to attend mandatory practices and flout NCAA rules. They lose game after game. Yet, guys who have IQ scores greater than their weight eventually commit to the goal to win one game for their old coach, Wally Hass. Coach Hass is the rare coach that truly believes student-athletes should be scholars first and athletes for fun. Wally just wants his players to experience wining one game before he retires.

Sex, drugs, rock 'n' roll, the Draft Lottery, the Anti-War Movement, and student rebellion on college campuses in 1969 -- the University of Chicago is swimming against the cultural tide by resurrecting its football program. Jack Blair is a small town Hoosier kid who just wanted to go to the best college in the Midwest. In Chicago Jack encounters characters as disparate as Muhammad Ali, Milton Friedman, and George Halas. And, he falls in love.

Alice hates football, but she is attracted to Jack. She wears a beret. He wears a helmet. She is a radical feminist from Chicago. He is a Hoosier farm boy.

Jack comes of age in a bewildering cultural milieu of frats, jocks, hippies, and Marxist radicals. But his greatest challenge is whether he can learn to love and make an authentic commitment to his team, his girl friend, or anyone. His coach, his philosophy professor, and Alice offer to show him the way.

The book is inspired by the author's experience of playing on the resurrected University of Chicago Maroons a/k/a the Monsters of the Midway.