"Mom's Guide" Parenting Your Teenage Daughter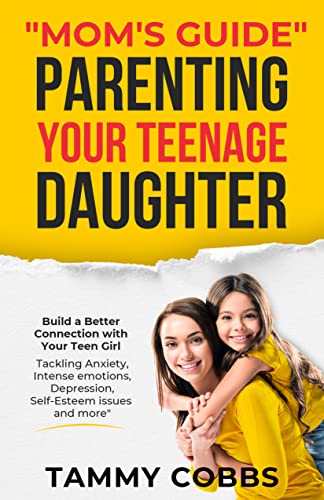 "Mom's Guide" Parenting Your Teenage Daughter
by Tammy Cobbs

Parenting a teenage girl is tough, but it can be one of the most rewarding experiences of your life!
Does your teenage daughter seem distant to you or find you embarrassing?
Are you constantly worried about the stress and anxiety that teenage girls go through from social life to school?
Are you struggling to keep up with her as she transitions from child to adult... and it's proving to be one of the hardest things you've done?
It's no shock to say that being a teenager is one of the hardest periods of any girl's life.
Especially in the age of technology and social media, teenage girls are constantly being bombarded by stress, anxiety, and an outbreak of emotions.
You may miss the way she used to be with her pigtails and stuffed animals, but now it's time to get back to reality and build a loving mother-daughter relationship!
Even if she keeps storming off and slamming her bedroom door at anything you say, your teenage daughter looks up to you.
She sees you as a role model and you need to bring life to that position.
When you're worried about your teenage daughter, it's always a mother's instinct to make sure she is well and free from stress and anxiety.
Learning how to be a part of their lives and save them from their struggles will put them on the path to becoming a well-rounded adult.
In "Mom's Guide" Parenting Your Teenage Daughter, you will discover:
What your teenage daughter is going through – from social struggles to intense emotions
How to be the perfect role model and teach your daughter the art of problem-solving
The power of trust and how you can build a positive relationship filled with routine and love
How to help your daughter through tough times, whether she's struggling with the stress of her social life or her journey towards self-expression
The 3 fundamentals of a healthy life that you can teach your daughter to overcome any anxiety disorder
How to deal with her intense emotions and create a positive environment at home, even if there seems to be no hope
The conflict management skills you need to deal with defiant teenagers and difficult situations
And much more.
If you're feeling helpless and defeated because your teenage daughter is proving to be difficult to connect with, that's perfectly normal in the process.
There are tons of situations that will make you want to pull your hair out… but there's always a solution.
Understanding your daughter is the first step towards a healthy relationship so you can help her overcome any issue that may arise.
If you're ready to build a positive relationship and watch your daughter grow into a responsible, well-rounded adult, then scroll up and click the "Add to Cart" button right now.