Modern Fairy Tale: Twelve Books of Breathtaking Romance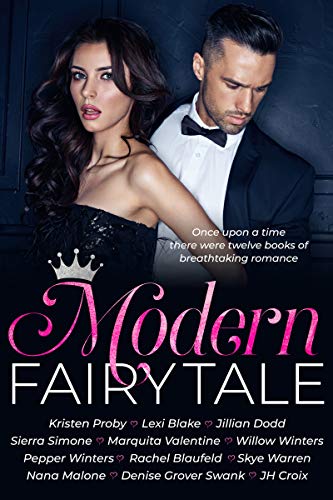 Modern Fairy Tale: Twelve Books of Breathtaking Romance
by Kristen Proby, Denise Grover Swank, Lexi Blake

Swoonworthy. Romantic. Smoking Hot.

Find your happily ever after in this limited-time boxed set from TWELVE bestselling authors. Modern day Cinderellas, handsome royalty, and business empires run from glass skyscrapers!

"A delicious fantasy, a filthy fairytale...rich in texture, intensely emotional, and highly erotic, with a perfect hint of magic." - Meredith Wild, New York Times bestselling author

"Royal-worthy chemistry in a snappy, page-turning package. Penny and Prince Sebastian are everything!" - Max Monroe, New York Times & USA Today Bestselling Author

"With a kickass heroine and intrigue, this page turner will have you spellbound and drooling over your new book boyfriend." - H.M Ward, New York Times Bestselling Author

TWELVE BOOKS INCLUDED:
Unconditional by Lexi Blake
American Queen by Sierra Simone
Cheeky Royal by Nana Malone
Kissing Jenna By Kristen Proby
The Prince by Jillian Dodd
The Player by Denise Grover Swank
Hold You Against Me by Skye Warren
Slow Burn by JH Croix
Merciless by Willow Winters
To See You by Rachel Blaufeld
Pennies by Pepper Winters
Just Desserts by Marquita Valentine

MODERN FAIRY TALE is a limited-time boxed set as a gift to our readers and to introduce you to new series to love. Download your copy and tell a bookish friend about it while it's available!