Middle School Success for the Uniquely-Wired Child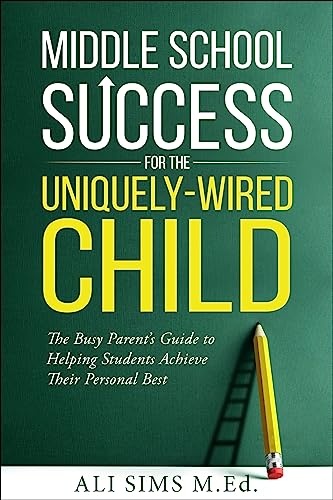 Middle School Success for the Uniquely-Wired Child
by Ali Sims

When It Comes to Your Child's Education, Don't Take No For an Answer
More than six million children in America have been diagnosed with ADHD; one out of 100 has autism. Sadly, many of them are getting left behind.
If you're the loving parent of a child with autism, attention deficit disorder, or other special needs, you're not alone. Although your journey may feel like a lonely one. Ali Sims should know. As a teacher, she observed which parents received support from the school system and which families did not. This insight helped her quickly determine the best approach for her two uniquely-wired children.
Now, Ali shares her most successful strategies in a simple 7-step framework to help you avoid unnecessary heartache and drama.
Discover how to:
✓ Uncover your child's gifts and proactively cultivate them
✓ Maintain positive relationships with teachers, staff and administrators
✓ Deal effectively with bullying
✓ Get the extra support your uniquely-wired student needs
✓ Reign in the negative influence of peers, especially social media
This book will leave you feeling instantly empowered and equipped with everything you need to help your child thrive in middle school and beyond. You have more control over your kid's school journey than you think.
Finally, a comprehensive guide for parents navigating the unique challenges of raising middle schoolers with ADHD, autism, or other special needs. Drawing on the latest research and the author's own experiences as both a parent and school teacher, this book offers practical strategies and new tools to help your middle school child succeed.
You can uncover your child's gifts and use them to their advantage while also addressing their unique challenges. You'll learn how to advocate for your child in the school system and how to work effectively with teachers and administrators. You'll also find practical tips for managing homework and school projects, improving social skills, and dealing with common behavior challenges.
The book is divided into seven easy-to-follow steps, each designed to help you understand your child's needs and create a supportive environment for their success. From identifying your child's strengths to developing a customized plan for their middle school years, Middle School Success for the Uniquely-Wired Child provides a roadmap for parents seeking to help their child reach their personal best.

Whether your child has ADHD, autism, or another special need, you'll have a wealth of knowledge and practical advice to help your child thrive in middle school and beyond. With the right tools and support, any student can succeed.
Plus find out how to get your FREE copy of the audiobook edition.
★ Scroll up to Buy Your Copy Today ★