Midas Touch: Use Magick to Attract Good Luck & Turn Everything You Touch to Gold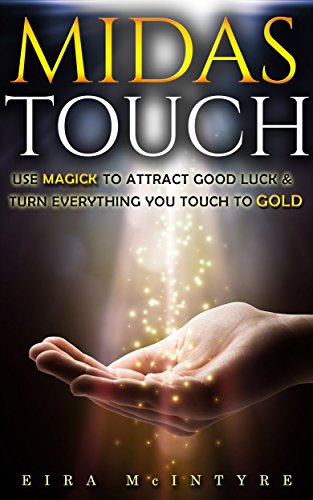 Midas Touch: Use Magick to Attract Good Luck & Turn Everything You Touch to Gold
by Eira McIntyre
Are You Worried about Your Lack of Luck, Success or Money? Do You Feel like, No Matter What You Attempt, You just Can't Seem to Get a Break?
Some people have it all: a loving spouse, a fulfilling career and enough cash in the bank to last them till the next century. Every project they start blossoms as if they could never fail. When you look at them, you can't help but feel a bit jealous. What on Earth is their secret to attracting success?
If that's the question you ponder, your search ends here! With "Midas Touch", you will learn everything you need to know to draw good fortune into your life and turn everything you touch to gold!
In This Manual, You Will Discover:
The exact spells to use to find your perfect job;


The best herbs for bringing luck;


How to make your own luck talisman;


The gods to call upon to reach success in your every endeavor;


How to use crystals to attract money.
You Will Also Learn:
How to craft your own luck spells;


How to get lucky for the long haul;


The spells to follow to find love or to keep the passion burning.
If You Could Use a Little Help from Fate, You Need to Read "Midas Touch"!
Imagine the difference in your life once you'll have harnessed the power of luck! Instead of going from failure to failure, you will reach success in every field. Money, fulfilling relationships, nothing will be out of reach.
To learn the secrets to magickal riches, scroll back up and click the BUY NOW button.