Matamoros: Civil War Adventure, Romance and Espionage in an Old West Border Town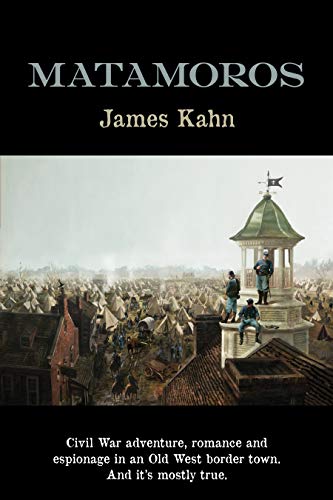 Matamoros: Civil War Adventure, Romance and Espionage in an Old West Border Town
by James Kahn

By 1862 the Union had blockaded all Confederate ports. Just across the Rio Grande from Brownsville, Texas, Matamoros was the only harbor where the South could ship its cotton to Europe, and smuggle in arms for the rebellion. So it was a haven for Yankee and Rebel spies and diplomats, gunrunners and cotton smugglers, runaway slaves, bandits, Texas Rangers, and rogues of every stripe.

But Matamoros was also full of French Foreign Legionnaires—because that same year, Napoleon III had invaded Mexico, to install Archduke Maximilian of Austria as Emperor.

Set against the backdrop of two wars, this is the story of Clay—an expatriate Southern gentleman running a gambling hall—and Allie, his ex-con artist partner, bringing her cotton train to market—in a star- crossed affair that may or may not survive their conflicted allegiances amidst the tides of battle.