Magical Renovation Mysteries : Books One to Three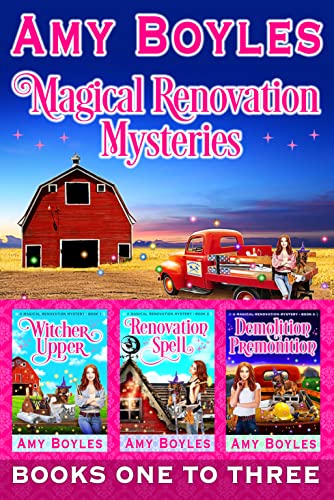 Magical Renovation Mysteries : Books One to Three
by Amy Boyles

Three full-length novels.
Over 500 pages of reading.
Magical Renovation Mysteries includes the first three books in this series--WITCHER UPPER, RENOVATION SPELL, & DEMOLITION PREMONITION.

WITCHER UPPER

Southern gal Clementine Cooke is busy. The house renovation business she runs with her best friend in the small town of Peachwood, Alabama, is thriving. That is until Clementine discovers her partner dead, encased in poured concrete.

It looks like murder. Clementine starts to investigate, quickly realizing that not only had her so-called best friend spent years lying to her, but plenty of folks wanted her dead--from the unionized wizard mafia to the old lady quilting club. But even with haters coming out of the woodwork, Clementine finds herself fighting off suspicion. She must locate the killer before the local police chief tosses her in jail and throws away the key.

With no one to turn to, she enlists the help of a wizard suffering from amnesia. But there's a hitch--he might not remember who he is, but Clementine does, and for her own reasons, she's not talking.

Can Clementine clear her name and save her business? Or will this be one magical renovation that winds up in demolition?

RENOVATION SPELL

Even though Clementine is dealing with upheavals in her life (encountering an evil wizard from her past, talking dog), she is determined to keep things normal--meaning, business as usual. But when a house cleansing goes terribly wrong and someone winds up murdered, keeping things normal seems to be a pipe dream. To make matters worse, Clementine is the only witness to the crime. And when the body disappears, no one believes that a murder was ever committed.

But Clementine is convinced that a crime took place and she is determined to catch the killer. To add on even more mayhem, Malene Fredericks wants her help spying on their neighbor, Clem's dog can now talk, and Rufus Mayes is still hanging around looking for the memory spell that she has hidden. As Clem sorts out her feelings for Rufus and searches for a killer, she finds herself entangled in a darker mystery than she ever imagined. And when everything comes to a head, Clem finds herself face-to-face with danger. Will she escape, or will she become the next victim?

DEMOLITION PREMONITION

Clementine Cooke has a lot of stuff to figure out. Not only has Malene dropped a bombshell of a reveal, but Clem is also processing her feelings for Rufus, who is bound and determined to make her a Spellhunter.
But when a new home designer moves into town, she starts stealing all of Clem's clients. Clem is ticked, and rightfully so. Things heat up in Peachwood when the interloper is found murdered and of course, Clem is the primary suspect.
Can Clem clear her name, accept Malene's new role in her life, and finally tell Rufus the truth? Or will she fall short in more ways than one and find herself at the mercy of the Peachwood murderer?