Magical Midlife Madness: A Paranormal Women's Fiction Novel (Leveling Up Book 1)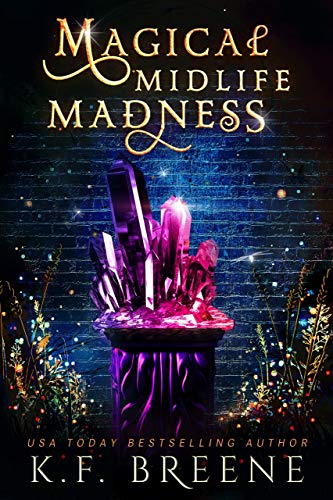 Magical Midlife Madness: A Paranormal Women's Fiction Novel (Leveling Up Book 1)
by K.F. Breene

A Paranormal Women's Fiction novel with a bit of class, and a lot of sass, for anyone who feels like age is just a number!

A Kindle Store Top 10 Bestseller!
#1 Paranormal Vampire Romance
#1 Werewolf Shifter Romance#1 Humorous Fantasy#1 Women's Fiction Fantasy
#1 Witches & Wizards Romance
#1 Demons & Devils Romance
"
Happily Ever After" wasn't supposed to come with a do-over option. But when my husband of twenty years packs up and heads for greener pastures and my son leaves for college, that's exactly what my life becomes.

Do-over.

This time, though, I plan to do things differently. Age is just a number, after all, and at forty I'm ready to carve my own path.

Eager for a fresh start, I make a somewhat unorthodox decision and move to a tiny town in the Sierra foothills. I'll be taking care of a centuries old house that called to me when I was a kid. It's just temporary, I tell myself. It'll just be for a while.

That is, until I learn what the house really is, something I never could've imagined.

Thankfully forty isn't too old to start an adventure, because that's exactly what I do. A very dangerous adventure that will change my life forever. I have a chance to start again, and this time, I make the rules.

______________________________________________

A hot new series and genre celebrating midlife and older women who crave a little adventure by USA Today Bestselling author K.F. Breene. Perfect for fans of Shannon Mayer, Jana DeLeon, Darynda Jones, Robin Peterman, Elizabeth Hunter and Denise Grover Swank.