Love Practice: A Friends to Lovers Gay Romance (Good Bad Idea Book 7)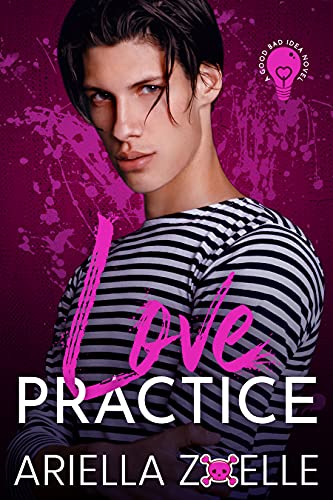 Love Practice: A Friends to Lovers Gay Romance (Good Bad Idea Book 7)
by Ariella Zoelle

Should Wren ask his best friend to go on practice dates when he's madly in love with him? Probably not. But a bad idea has never stopped Wren before. The last thing he expects to discover is that Izzy has been mutually pining for him. How long will it take before their practice dates become real ones?
Wren Ferres
I'm so used to Izzy shooting down my flirtations and bad ideas, I almost don't know what to do when he accepts my offer to be my dating tutor. I really should have thought this genius plan out better because my heart is not prepared for my best friend to turn into Prince Charming, then sweep me off my feet like his romancing is for real. We're only going on "practice" dates, but it feels a little too realistic. But that gives me another brilliant idea: I should try to convince Izzy to be my actual boyfriend.
Since he's already agreed to being my dating tutor, maybe I'll push my luck by suggesting some kissing practice next?
Izzy Devereaux
I fell in love with Wren the day he literally crashed into my life and became my best friend. He pushes me to my limits with his playful flirting, naughty innuendos, and nonstop passes that wear my resistance down a little more each day. When he asks me to go out with him on practice dates to give him "pointers," I know I should tell him there's no way in hell I'll do that. Agreeing would put me in serious danger of my secret feelings for him being discovered. But, it also presents a tempting opportunity to make him see me as more than just his best friend. Even more importantly, it could be my only shot at making him my actual boyfriend.
Our dates may be fake, but my feelings for him are all too real. I've spent years suppressing my love for him, which obviously isn't working. If I want to win his heart and make him mine, maybe it's time for me to embrace my role as his dating tutor and teach him a lesson on how to fall in love with me?
Love Practice is the seventh and final book in the Good Bad Idea series and part of the Sunnyside universe. This novel features a friends to lovers, roommates, fake dating, mutual pining, gay romance. If you love cute sweetness, sexy fun, and low angst stories that will make you laugh and swoon, you'll enjoy this satisfying HEA without cliffhangers. Each book can be read as a standalone or as part of the series in order.