Lorna Shadow boxed set anthology (books 1-6)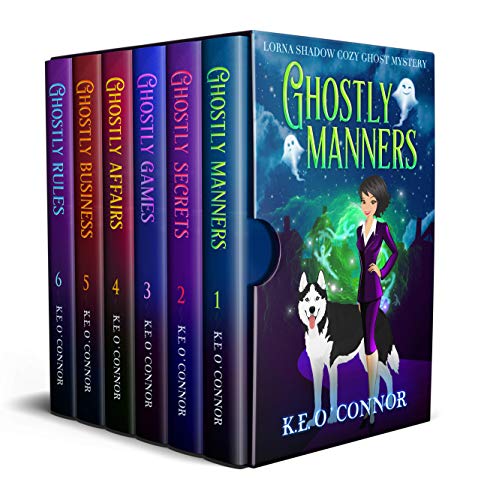 Lorna Shadow boxed set anthology (books 1-6)
by K.E. O'Connor
If every home has a ghost, how many need help? And who would you contact to get the ghosts justice? Lorna Shadow will always step up (although sometimes reluctantly!)

Enjoy this bumper edition of six fun, cozy ghost mysteries, set in the world of the privileged and (often) murderous. Expect castles, plush mansions, expensive tastes, and twisty murder mysteries to figure out.

Lorna Shadow, our sleuth, wants to be the best personal assistant she can be to the rich and aristocratic. The trouble is, the ghosts have other plans. Gifted with the ability to see restless spirits, Lorna treads a thin line between offering the ghosts help and not getting caught talking to thin air!

Make friends with Lorna, Helen Holiday, her loyal, ditzy sidekick, and their adorable ghost-sensing dog, Flipper, as you puzzle through the clues, discover the murderers, figure out whodunit, and help the ghosts who need justice.

Ghostly Manners: A new job. A haunted house. A ghost with a problem.

Ghostly Secrets: A troubled ghost. A house full of suspects, and a mystery that must be solved.

Ghostly Games: An unsolved disappearance. Ghostly laughter. An unforgettable ectoplasmic experience.

Ghostly Affairs: A house full of secrets. Two restless ghosts. A murder mystery to solve.

Ghostly Business: A haunted castle full of suspects and an eccentric ghost who refuses to rest.

Ghostly Rules: Dark deeds. Missing gold. A ghost with twenty-five million secrets!

What readers have to say:

"Great book. Characters were fantastic." Amazon review.

"I really like this series. It has a creative idea, and each book has new secondary characters and a new paranormal plot. Very good character building and intriguing plotting." Amazon review.

"K.E. O'Connor is a great writer. Her books keep you wanting more." Amazon review.

Enjoy reading these fun cozy ghost mysteries, which involve close friendships, tasty treats over a mug of tea, the cute antics of a ghost-sensing dog, and intriguing whodunnits.