Lincoln's Lawman Volume Two #1 If the Devil had a Double: An action adventure adult western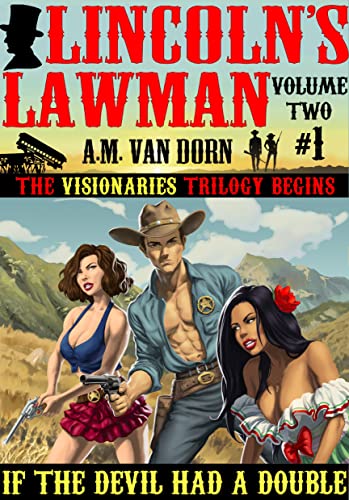 Lincoln's Lawman Volume Two #1 If the Devil had a Double: An action adventure adult western
by A.M. Van Dorn

WITH THEIR WORLD OF RUTHLESS AMBITION AND NAKED GREED IN PERIL, THE CRIMINAL SCOURGE OF THE OLD WEST THE CABALLEROS A/K/A THE KNIGHTS OF FORTUNE HAVE DECREED...LAWMAN NASH RIKER MUST DIE!

Using sex as a weapon, hoping to deliver a devastating blow against their arch rivals the Military Marshals at Large, a sultry yet reluctant assassin has been dispatched by enemy leader Daniella Villanueva to eliminate her perpetual thorn in the side… Lincoln's Lawman deep in the throes of passion.

If Riker unwittingly having a bullseye on his back weren't enough, enter sexy thief Stacia Giannini, a member of a mysterious group with their eyes on the future and an unknown agenda. Whether these so called Visionaries now cast the shadow of a new threat over the West, Nash Riker may never live to find out!


PLEASE BE ADVISED

The Riker's adventures, be it braving the sometimes-violent west or their sizzling escapades with the opposite sex are recommended for mature readers who, are 18+ years of age and above.

Now saddle up and join Riker and his twin and loyal deputy, McKenna in this sizzling, exciting new adventure as they take on their deadliest foes all the way to a white knuckle conclusion by scrolling back up to the purchase button and dive into Lincoln's Lawman Volume Two #1-If the Devil Had a Double as the Visionaries trilogy begins!