Life Skills for Teens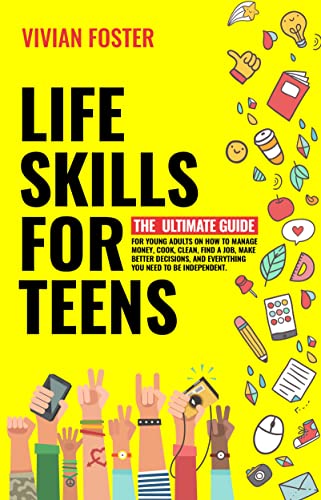 Life Skills for Teens
by Vivian Foster

'Adulting' worries most people even those who've been doing it for years. No matter your fears about flying the nest, you'll find it 100x easier when you know the essential life skills the school system has failed to teach you, and this book will help you...
Even if you're a straight A student, there are crucial things the education system has failed to teach you... Read on to make sure you don't miss out.
You have a ton of natural talents and skills you've spent years developing… but if you're anything like most young people, you have a few gaps in your knowledge when tackling life admin.
It's nothing to be ashamed of – one survey found that 81% of recent college graduates wish they'd been taught more life skills earlier.
Everything you need to know to take the headache out of adulthood is collected here in this comprehensive guide – and you can bet your bottom dollar that every adult you know wishes they'd had this kind of advice when they were younger.
Inside, you'll discover:
● Money management tips – complete with solid budgeting advice to help your hard-earned cash go further
● The 6 pillars of health and wellness you didn't realize were crucial to your wellbeing (and how to meet them easily)
● How to access the proper medical support when you're away from home (plus advice for jumping the most common hurdles college students encounter)
● Everything you need to know to keep a successful kitchen, cook healthy and delicious meals for your friends, and have fun while you're doing it
● Multiple secrets for keeping your living space organized and sparkling – with minimal effort
● Essential advice for disaster-free laundry
● Why your fashion choices matter – and how to make sure you dress the part for every situation
● Exactly what to do to keep your car safe and roadworthy at all times… so you can drive freely without ever worrying about preventable emergencies
● What everyone wishes they'd known about moving house and finding new housemates
● From college loans to courses – the guidance the college brochures miss (choose wisely, and skip the stress!)
● Common emotional challenges faced by young people… and what you can do to navigate them if they happen to you
● Why 'growth mindset' is more than a trendy phrase… and what you can gain when you embrace it (plus: life-changing advice for developing habits you want to keep)
● Speedy questions to test your new knowledge at the end of every chapter
And much more.
It's something that's fundamentally lacking from our education system, and there isn't a teenager out there who knows everything about how to handle life when they fly the nest.
And it's never too late (or too early) to start picking up those crucial life skills – because Whether you're 13 or 19, there's always something you can learn to make life easier and less stressful.
Launch yourself into adulthood without the stress: Scroll up and click "Add to Cart" right now.