Lands Beyond Box Set: Books 1 - 3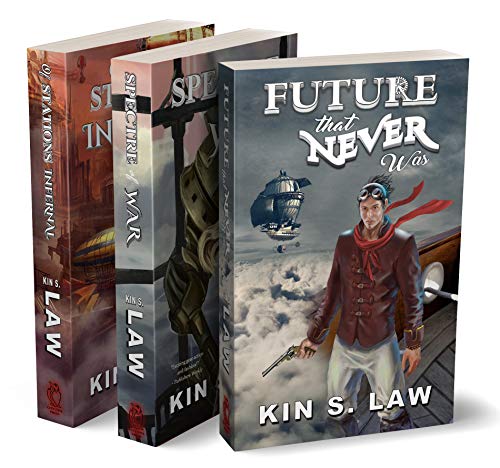 Lands Beyond Box Set: Books 1 - 3
by Kin S. Law
From steampunk author, Kin S. Law, comes the Lands Beyond Box Set. The collection contains books 1 – 3, including Future That Never Was, Spectre of War, and Of Stations Infernal. Join Albion and Vanessa as they encounter air pirates, clockwork giants, and ghost trains! It's a high-flying adventure romp.
**********
FUTURE THAT NEVER WAS (Book 1)
Join Albion in this steampunk adventure romp and global bar crawl to save the world.
Pillage and plunder is what air pirates do, but for Albion Clemens, that will have to wait. The Manchu Marauder needs to find his American stepfather, Captain Samuel, lost to the wayward winds of a Steam Age Europe.
Unfortunately, Captain Samuel has stolen the Laputian Leviathan, a powerful pirate artifact that's got agents of Queen and calamity sniffing at his coattails. The skies are a-twitter with rumors of some nefarious theft: someone is ripping up and stealing national landmarks, leaving the aerial navies of Europe helpless. It's an idea so ludicrous it has to be true. What's Captain Sam got to do with it? And why does the Darjeeling only taste good in Auntie's galley?
With the aid of a buxom detective Inspector, a seditionist British journalist, and a knife-happy helmswoman, can Albion get to his pa before their high-flying pirate life is transformed into a Future that Never Was?
**********
SPECTRE OF WAR (Book 2)
Join Vanessa to solve the case in this giant robot steampunk mystery.
A third Victoria has ascended the throne of a steam-driven country where enormous clockwork giants walk the streets and airships carry news of the Ottoman threat in the East.
In the wake of a calamity that engulfed all of Europe, Inspector Vanessa Hargreaves of Scotland Yard is given the dubious task of policing steamcraft crime. Along with flamboyant detective Arturo C. Adler, she stumbles upon a conspiracy to use a horrific plague in an effort to prevent war.
But even as dastardly forces converge upon her, our high-heeled detective struggles with her devotion to Queen and Country, and the shadows under the Union Flag grow ever deeper.
Can she put a stop to this new disaster before her country is devoured by a Spectre of War?
**********
OF STATIONS INFERNAL (Book 3)
In the wilds of America, Vanessa Hargreaves finds herself up to her corset in trouble.
Her investigation stymied by monstrous horrors, the Inspector continues to carry the deadly Cook plague away from villains unknown. Traveling with her automata Alphonse, she doesn't know can't tell if she's running from the steaming, lurching giants at her heels or her guilt at putting her loved ones in danger. From deadly circus side shows to a ghostly train that seems to have a life of its own, the very land of the new world seems to be attempting to thwart her at every turn.
The American heartland is rife with strange, wondrous, dangerous oddities of its own, challenging her convictions and her very service to her Queen. Loyalties and regrets will become the least of her worries as titanic forces are mustering, from ghost trains to air pirates, to bring her great American adventure to an untimely end
**********