Kilty Mind: A Time-Travel Urban Fantasy Romantic Thriller with a Killer Sense of Humor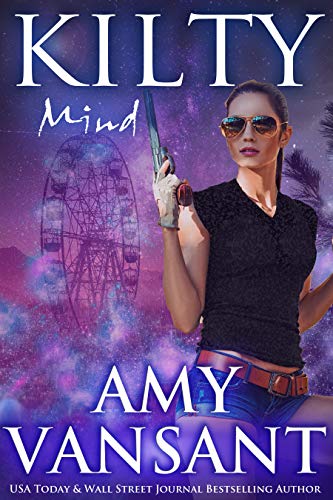 Kilty Mind: A Time-Travel Urban Fantasy Romantic Thriller with a Killer Sense of Humor
by Amy Vansant
USA Today and Wall Street Journal best-selling author Amy Vansant delivers more fast-paced thrills and crackling wit as the Highlander and the Hollywood fixer fall even more in love during a movie studio crisis...

Time-tossed Highlander Brochan doesn't get a moment to recover from his latest wounds before he and Catriona discover one of Parasol Picture's biggest stars has been accused of murder. It will be hard for the actor to beat the charge...the body was found under his house.

When another studio asset is dosed with drugs that send him into a near-fatal frenzy, the fixers have to wonder if someone is out to destroy Parasol. It doesn't help that Catriona's nefarious sister, Fiona, has moved even closer to the studio and seems inextricably tied to Parasol's problems.

Brochan and Catriona could find solace in each other, but Brochan wants to get married before they hop into his kip and Cat thinks he needs to embrace the twenty-first century. Though on the upside, Broch says her hand in marriage is worth at least four cows...

Fans of Janet Evanovich, Ann Charles and Jana DeLeon will delight to find a series that provides thrills, a few chills, mystery, a bit of romance and a good dose of humor.

* There is a partial cliff-hanger - each book can stand alone and is also part of a larger story arc that continues through the series.