Kickass Sidekicks: Murder Mysteries With Detective Duos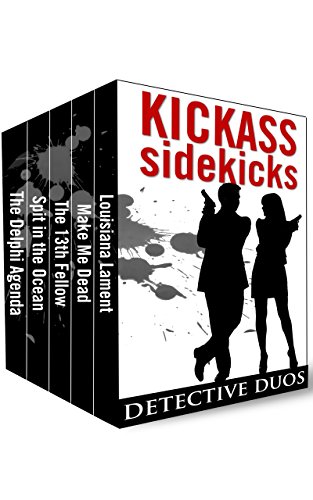 Kickass Sidekicks: Murder Mysteries With Detective Duos
by Julie Smith et al
DOUBLE TROUBLE, DOUBLE FUN!
Who is Holmes without his Watson, Scully without her Mulder? Half the fun of a witty, fast-paced mystery is watching two wildly different kinds of detectives duke it out verbally while puzzling out a nearly impossible solution. Especially if they happen to be attracted to each other. In these five, some are, some aren't, but in each case, these dynamic duos complete, complement and—often—thoroughly infuriate each other. (In the friendliest possible way, of course.) Double detectives, double fun at less than half the normal price!

Editor's Note: These are all full-length novels, not short stories, and, in the great tradition of The Omnibus are a collection of themed books, meant to showcase partners working together, not to introduce first novels in a series. Many of these are mid-series--but they in no way depend on the rest of the series. Simply enjoy as stand-alones!

LOUISIANA LAMENT

They'd be Queen Latifah and Danny DeVito if this were a movie. In Louisiana Lament, they're P.I.s Talba Wallis and Eddie Valentino. Talba's a young, African-American, computer-brilliant, bright-eyed, bushy-tailed, and a noted poet by night; Eddie's pushing seventy, white, hopelessly tech-challenged, and pretty much burned out. Somehow, they make it work—with Talba's tech-and-street smarts, and Eddie's old-school hard-earned savvy, they even complement each other.

MAKE ME DEAD
How can you go wrong with a 500-year-old vampyre movie star and her mortally attractive crush—a macho, all too human L.A. cop, on a jaunt to New Orleans in this adventure. A flaming hot combo to begin with, but spiced up with author Barbeau's sassy writing, it's a treat for cozy and paranormal fans alike. Because, as always in a Vampyres of Hollywood mystery, the biting wit is sharper than a nip from a passing vampyre—humor, wit, and satire are what this engaging series is really all about.
THE 13TH FELLOW
American Professor Havilah Gaie has always seen herself as "an academic version of Pam Grier's characters: smart, quick on their feet, loyal with a keen sense of purpose." Now she's got a chance to suit up for action because suddenly she's a witness in a murder—in Provence. Havilah's at the center of the mystery, and so is Thierry Gasquet, a dashing French agent who doesn't care much for amateur detectives. Who resists a dashing French agent? Hint: It's a lot of fun watching Havilah try.
SPIT IN THE OCEAN
Ex-Chicago-cop Jake Samson and his ever-sharp Watson, Rosie Vicente, hired by a bank to find out who made an unauthorized withdrawal, blow into a coastal California town as a savage storm is approaching. It was quite a bank job--the vault emptied out, not a shot fired. In fact, it resembled a burglary more than a bank job, but when you rob a sperm bank, that's sometimes all it takes. Need we say Jake and Rosie have a ball!
THE DELPHI AGENDA
Papyrologist Lisa Emmer and her cohort, a mysterious banker named Steve, unravel of secrets of ancient history mixed in with a chilling conspiracy that brings to mind the best of Dan Brown. What's going on: The Inquisition is back! And this time they have technology. An action-packed and very exotic international thriller!