Ketogenic Diet: Ketogenic Diet for Beginners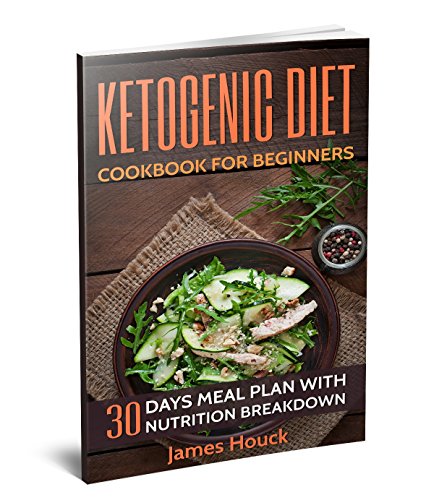 Ketogenic Diet: Ketogenic Diet for Beginners
by James Houck
EAT FAT TO LOSE WEIGHT. Are you tired of staying hungry all day to lose weight? What if I tell you that you can lose weight by eating FAT. Sounds impossible? In a Ketogenic Diet, this is exactly what you will do.
Today only, get this Amazon bestseller for just $0.99. Regularly priced at $2.99. Read on your PC, Mac, smartphone, tablet, or Kindle device.

You're about to discover how to kick-start your Ketogenic journey on all the right notes by knowing what a Ketogenic Diet is and why you should go on this diet. This book will clear all your doubts around the Ketogenic Diet in the very beginning and will tell you clearly the mistakes that you should avoid while on this diet.

Most importantly, you will receive a 30 days diet plan with total calories count of each day in this book to meet your daily nutrition requirements. Each of the recipes in this book has nutrition information for you to be sure of what you are eating.
Here Is A Preview Of What You'll Learn...
Download your copy today!
Introduction to a Ketogenic Diet
Why You Should Go on a Ketogenic Diet
15 Benefits of a Ketogenic Diet
Top 15 Common Myths of a Ketogenic Diet
Calories Calculator
Top 15 Mistakes that You Should Avoid
Top 15 Side Effects to Expect
30 Days Ketogenic Meal Plan with Nutrition Information
Delicious Breakfast, Lunch, and Dinner Recipes with Nutrition Information
Much, much more!




Take action today and download this book for a limited time discount of only $0.99!

I am pretty confident that after getting used to a new lifestyle and diet, the benefits of the Ketogenic Diet will be quite visible to you and, trust me, you will be quite happy and satisfied with your decision to change your lifestyle. I encourage you to download this book and take charge of your life!!

Tag: ketogenic diet, ketogenic diet for beginners, ketogenic mistakes to avoid ketogenic diet for weight loss, diabetes diet, paleo diet, anti-inflammatory diet