Keto Diet: 4 Books in 1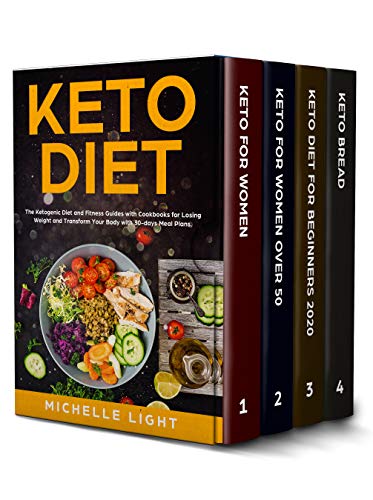 Keto Diet: 4 Books in 1
by Michelle Light

Check Out This Incredible Step-by-Step Guide for Keto Diet and Weight Loss!
Are you a woman struggling with a few extra pounds and self- image?
Would you like to:
Burn fat like a volcano but keep eating the same food you eat now?
Lose weight quickly and start leading a healthier lifestyle?
Learn how to cook delicious meals designed for weight loss?
But you:
Don't want your diet to be comprised of salads and grass?
Tried some other diets and had no success?
If your answer to any of the questions above is "yes," then this bundle is perfect for you. If you follow the step-by-step guide found in this bundle, you will surely succeed in losing weight quickly and restoring your body and looks to what you always wanted them to be.
The change is here, and all you have to do to start it is to take this book in your hands!
Here is what this incredible bundle will offer you:
Basics of keto diet: Find out why the keto diet is so efficient, which foods are essential and which ones to avoid.
Guide for success: Discover the most common mistakes people make while dieting and learn how to avoid them.
30-day keto meal plan: Discover a complete and thoroughly explained 30-day step-by-step program for losing weight.
Delicious and mouthwatering recipes: Learn how to prepare your more than 100 savory and delicious meals that will help you lose weight.
Body transformation guide: Discover an in-depth guide for daily exercises and physical activity to boost your weight loss additionally.
If you want to lose your weight and restore your good looks, all you have to do is to follow the easy step-by-step guides found in this bundle. What are you waiting for?
Scroll up, click on "Buy Now with 1- Click", and Get Your Copy Now!