Joey Finds His Jump!: A Dance-It-Out Creative Movement Story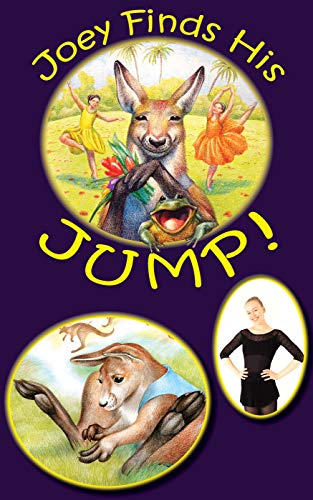 Joey Finds His Jump!: A Dance-It-Out Creative Movement Story
by Once Upon a Dance

Movement inspiration arrives in Dance-It-Out's charming series debut, created by an award-winning dance teacher and her ballerina daughter.
Meet Joey Kangaroo. Joey never learned how to jump, and he desperately wants to find the secret. Ballerina Konora helps readers express their movement alongside Joey in this interactive story of determination, friendship, and jumping jubilance.
The Dance-It-Out! series was created for children ages 4-6 by the author of Dancing Shapes, a 2021 Independent Press Award Winner.
What Folks Say:
"Highly recommended for anyone with young children and those young at heart too."
~Reedsy

"An innovative use of dance and storytelling for a fun, child-focused activity."
~Kirkus Reviews

"I LOOOVE it! ... And I love the dance parts. And they were sort of tricky but I did it!"

"…is a really fun book. I love the idea of using a story to inspire kids to move their bodies in different ways, and the character of Joey is endearing. I also like how it can help teach kids to talk about stories and characters in new ways, as it encourages them to react and respond to what's going on in the pages."
Concepts:
Ballerina, Ballet, Dancer, Dance, Ballet Dance, Girls, Recital, Gift, Ballet photography, How-to photos, Aspiring dancer, Young dancer, Dance book for kids, Ballet book for kids, Classical dance, Exercise, Exercise at home, Fitness, Lesson, Dancing Reference, Studying ballet, Terminology, Terms, Ballet vocabulary, Ballet technique, Steps, Picture book, Bedtime story, Storytelling, Imagination, Juvenile, Preschool, Elementary, Home-school, Juvenile fiction, Kidlit, Children's book, School-aged, Reader, Konora, Terrel, OnceUponADance, Coronavirus, COVID-19, Physical education, Body awareness, Creative movement, Plié, Beautiful, Strong, Gratitude, Discipline, Practice. Movement, Tutu, Leotard, Strong Women, Frog, Kangaroo, Jump, Jumping, Active, Action, Gallop, Body parts, Friendship, Dance fundamentals, Celebrate, Joy, Empathy
About the Author
Konora is an apprentice with Ballet Idaho and previously danced with Pacific Northwest Ballet's Professional Division and Texture Contemporary Ballet. Growing up, she danced iconic roles such as Sugar Plum Fairy and Cinderella.

Konora's mother taught creative movement and ballet for decades and was honored to be chosen and recognized by her local City Council (2014) for embodying the spirit of partnership and commitment to children in our community for her work with young dancers. She's breathed dance from every angle: child to pre-professional to adult ballet student, zoom student, dance teacher, dance mom, competition mom, ballet-school parent-guilder, audience member, recital planner, business owner, and board member.

Once Upon a Dance's first pandemic creation, Dancing Shapes, has won several awards:
• 2021 Independent Press Award Winner
• 2021 15th Annual National Indie Excellence® Awards Finalist
• 2021 Next Generation Indie Book Awards Finalist