Jerry the Squirrel: Volume One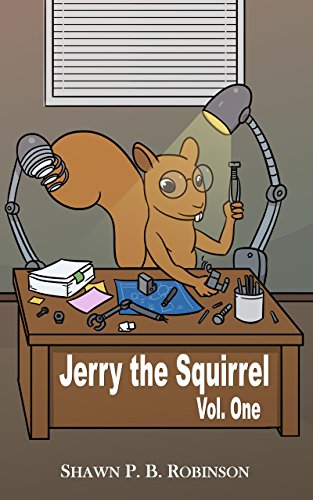 Jerry the Squirrel: Volume One
by Shawn P. B. Robinson

Jerry the Squirrel loves inventing… and he's pretty good at it. What he's not good at, however, is making sure his inventions only do what he wants them to do.
Join Jerry the Squirrel in this fun set of short stories as his Nut Harvester turns into a Nut Cannon, as his Ear Plugs turn into Megaphones, and as his Automatic Slippers turn on every Squirrel in the village!
Laugh together during bedtime reading or leave your young readers to enjoy these fun, family-friendly stories on their own. These tales are sure to captivate young readers and leave them wanting more.
If you love fun stories, this series starter is sure to pull you in!
Order your copy now and get ready for ten exciting adventures!

"I've never read anything quite like it before. The tongue-in-cheek humor and squirrel protagonists in a slightly off kilter fantasy world is like a delightful combination of Terry Prachett's Discworld series meets Watership Down." Rebecca, Amazon Reviewer.
"Excellent children's story that this adult loved! I read the second book and then purchased this book even after receiving it as an ARC free from the author because it is that good." Patricia, Amazon Reviewer.
"A story great for bed time. 5 stars to the author for making me laugh…" Issy, Amazon Reviewer.
"This book of short stories about Jerry the Squirrel and his madcap inventing escapades made me laugh and smile a lot. They are very daft, but very enjoyable too." Lolah, Amazon Reviewer.
"I read it out loud to my son and he loved it!" Lady Lark, Amazon Reviewer.
"I loved this book! Shawn has quite an imagination and puts it to good use in the books he writes! Thanks, Shawn." Anonymous, Amazon Reviewer.