Innocent in Las Vegas: A Humorous Tiffany Black Mystery (Tiffany Black Mysteries Book 1)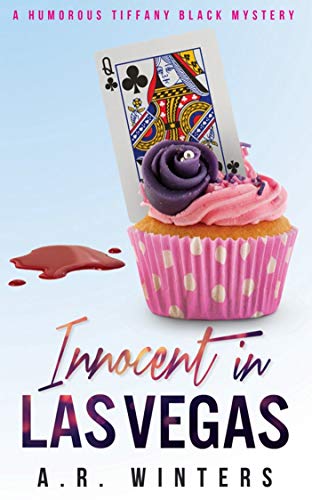 Innocent in Las Vegas: A Humorous Tiffany Black Mystery (Tiffany Black Mysteries Book 1)
by A.R. Winters

A Cupcakes-And-Crime Caper
"I tell myself every day that I don't hate my job... But there's a reason I'm trying to leave the madness of the casino pit to become a Private Investigator."
"Winters will have you giggling into your book!"

Cupcake-loving croupier Tiffany Black is determined to leave her job at the casino for good. She's one small step away from acquiring her Private Investigator license, and has her eye on the prize.
Accepting her first real case - investigating the murder of casino-mogul Ethan Becker - should be exciting. Instead, things spiral out of control and Tiffany finds herself in over her head, as she confronts secretive suspects, corrupt casino henchmen and a bodyguard with a mysterious past.
Tiffany's poker-hustling Nanna and pushy parents want her to find a nice man and settle down, but Tiffany just wants to track down the real murderer before he finds her first...
Praise for A.R. Winters:
"You fall in love with Tiffany Black from the start, and the mystery starts immediately" - Melissa Greenberg, Amazon.com Top 1000 Reviewer
"The perfect balance of being lighthearted, but still a serious page-turning mystery." - Jaycie D, Amazon.com