Infection: A Post-Apocalyptic Pandemic Survival Novel (Sympatico Syndrome Book 1)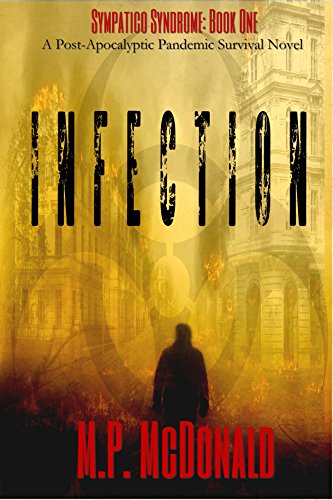 Infection: A Post-Apocalyptic Pandemic Survival Novel (Sympatico Syndrome Book 1)
by M.P. McDonald

A Terrifying Post-Apocalyptic Pandemic Rips Through the United States.
The countdown to the end of the world begins silently.
No one realizes there's a deadly illness spreading like wildfire until it's too late. With few symptoms, victims literally drop dead after a brief surge of energy. Within days, it tears through the population of the United States.
Now, faced with the very real possibility of extinction of the human race, Cole Evans has only one chance to save his family and survive: a safe haven on an isolated, hard to reach island.
Can he convince his brother that the danger is real and that there's enough space for his family as well?But can they all reach the island before the lights go out for them...forever?
Get this exciting post-apocalyptic thriller today.