Immortals' Requiem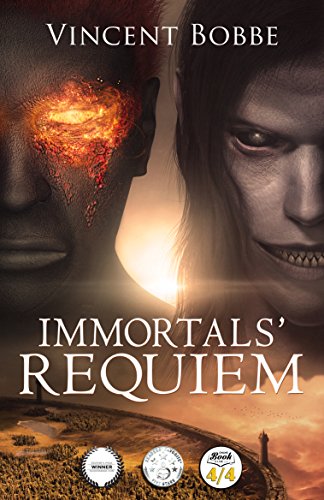 Immortals' Requiem
by Vincent Bobbe

There are beings that live a shadow's breadth from our reality. They are the dreams and nightmares of humanity, the ancient seeds of fairy-tale and superstition.
These are the Immortals, creatures of magic that should live forever... and they are fading.
When a horror two thousand years dead returns to contemporary England, creatures long thought lost to myth and legend collide in a scramble for survival that could tumble civilisation back into the dark ages of blood and death.
If you like urban fantasy, ravening zombies, terrifying shapeshifters, scheming vampires, and vast supernatural worlds, you'll love Immortals' Requiem!
Overview
Immortals' Requiem is a dark urban fantasy in a contemporary setting. The story is a fast paced adventure with strong characters in a vast world and has already won awards. Though there has been a recent trend within the genre towards young adult fiction, Immortals' Requiem is written for adult audiences (due to scenes of violence, NOT erotica).

Please note, this book is written in the 3rd person from the point of view of various different characters. If your preference is for stories that follow a single character on their adventure then you might want to pass. However, if you are comfortable with multiple character timelines running in parallel that clash together with huge momentum... then you are in the right place!
Content Advisory: This book is intended for mature audiences and contains graphic violence.
Awards
Winner Of The Readers Favorite 5* Award
HugeOrange.com Editors Pick Winner
OnlineBookClub.Org 4/4 Winner