How To Become Your Best Self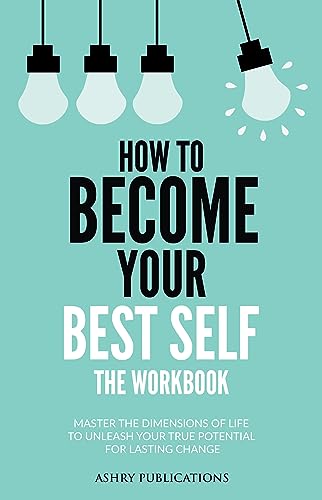 How To Become Your Best Self
by Ashry Publications

Take powerful practical steps towards a better you!
What if through guided reflection you can find out your true potential, reach your goals, and live a more fulfilling life?
This fantastic book helps guide you in a very methodical way to becoming a more well-rounded and balanced version of yourself.

Whether you are discovering your expanded abilities for the first time, re-visiting areas of your life you've neglected or looking for a new way to do monthly journaling, this easy-to-follow workbook will help you create weekly and monthly habits to create a more balanced you.
The best way out of your comfort zone is to gradually expand it and find your optimal level of "good stress." Increased performance is just one of the many reasons stepping out of your comfort zone is important.
The wellness wheel has been defined by the University of New Hampshire as "an active process through which you become aware of, and make choices towards, a more balanced life."
This self-reflection journal offers a very special place to:
• Identify the gaps in life which will influence your goal setting
• Give you an immediate visual representation of how your life is now
• Help you focus on each area of your life and identify which areas need more attention
• Record your plan of action and regular reviewing of it
• Ponder over Prompting Questions to help you achieve all the above
• Be inspired by Motivational Quotes littered throughout the book
• Help you achieve a balanced and stable life
ARE YOU READY?
Become a better, sharper, more alpha version of yourself by scrolling up and clicking Buy Now!