HOT Storm (Hostile Operations Team® - Strike Team 2)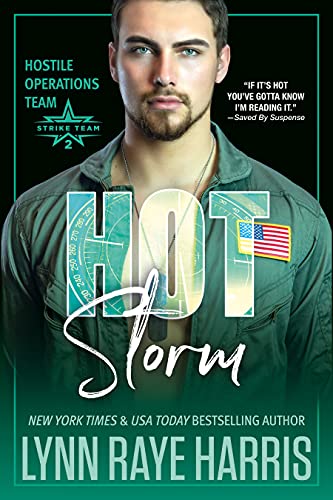 HOT Storm (Hostile Operations Team® - Strike Team 2)
by Lynn Raye Harris

She changed her name. Her look. Her location. But what if running away isn't enough to save her?

Physical therapist Scarlett Reed is looking for a fresh start when she takes a job in another state. Her rules are simple: don't get close to anyone, and flee at the first sign of danger.

Wounded soldier Malcolm McCoy plans to work hard in rehab so he can get back to saving the world. He isn't looking for a relationship, but something about prickly Scarlett intrigues him more than it should.

When she needs a place to stay, Mal offers her the apartment over his garage—and finds it nearly impossible to keep his hands off his sassy, sexy neighbor. Scarlett knows she shouldn't get involved, but a little friends with benefits action can't hurt.

Or can it? Someone in Scarlett's past circles closer, waiting for a chance to strike. Mal will do whatever it takes to protect her—but it might not be enough to survive what's coming…

As soon as they think they've weathered the storm, they'll discover it's only beginning.

**Start reading the Hostile Operations Team today and enjoy an action-packed, seriously romantic and steamy-good-fun military romantic suspense. Each book can be read as a standalone (though you might enjoy them in order). No cliffhangers and a guaranteed happily-ever-after ending!