Hormone Balance Plan and Cookbook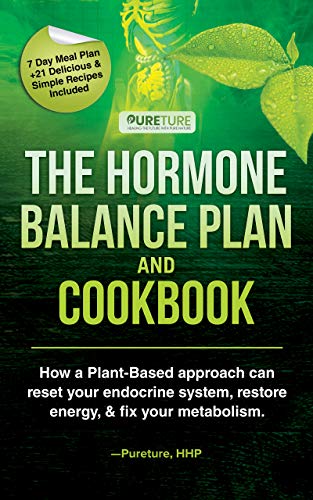 Hormone Balance Plan and Cookbook
by Pureture HHP

The simple approach that has helped millions of people take back their lives from chronic pain, illness, and dysfunction.
Do you have extra, stubborn weight gain?
Bloated or chronic inflammation?
Mood swings? Low energy, or adrenal fatigue?
Autoimmune diseases, obesity, diabetes, arthritis… What do all of these have in common?
Besides affecting a huge portion of the global population, these health complications make it difficult-to-manage and are hugely disruptive when trying to lead a happy, pain-free life.
What you may not know, is that one simple lifestyle change can set you on the path to symptom freedom.
As highly processed, inflammatory foods become more and more available, our bodies have struggled to adapt. Evolution spent millions of years curating a body that is unprepared for the high fat, animal product based diet that many people follow today.
If you've spent hours in doctor's offices...
Tried more treatments than you can count...
Don't despair. As the saying goes, when in doubt, simple is better!
Pureture knows what it's like to crave simple solutions and want nothing to do with medication.
By shifting the focus from eliminating symptoms to increasing the consumption of whole foods, you can reset your entire body--immune function, metabolism speed, weight loss, and more.
In fact, the results are so powerful that even chronic afflictions can show signs of remission.
Despite the absence of a cure, after adopting a plant-based, low fat diet, 95% of patients with early stage MS demonstrated no disease progression in the following 30 years.
You can experience improvements just as drastic.
Are you looking for relief, but don't want to take another prescription pill or get another shot?
Are you wondering what foods are the best to eat?
If you answered yes, this is the only book you need!
Inside Hormones Balance Plan & Cookbook, you will discover:
The hidden factors throwing off your hormones that you consume every day without realizing it
How Pureture completely solved adrenal fatigue, brain fog, mood swings, leaky gut and more
7 Day Plant-Based Meal Plan With 21 Recipes (no images inside book) - to help ease your way into a healthier lifestyle
**A special link to gain access to the meal plan with colored images**
The scientific evidence proving the long-term benefits of a plant-based diet that have shocked even medical professionals
Tips & Tricks for an easier dietary transition, EVEN IF you're not so keen on eliminating meat and dairy products
The 4 simple steps to target sources of pain and discomfort with proper nutrition
Plus a FREE bonus inside you don't want to miss
And much more.
Finding a reprieve from pain and discomfort doesn't mean you have to spend thousands on a nutritionist, or undergo invasive surgeries and exhausting treatments.
You have the power to make your body work for you, rather than against you, without making life more uncomfortable.
If you're ready to make a lifestyle change and finally quit tormenting your body, let Pureture guide you, scroll up and click the "Add to Cart" button right now.