Hope Refreshed: Modern Parables Collection (Box Set of 6 Short Stories)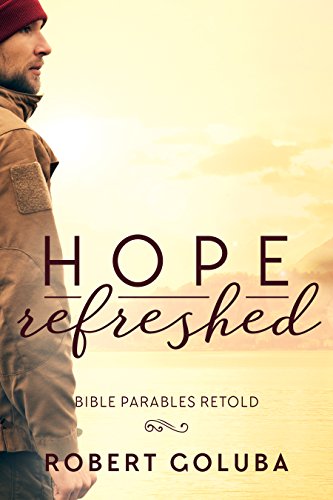 Hope Refreshed: Modern Parables Collection (Box Set of 6 Short Stories)
by Robert Goluba
Captivating plots grace the pages of Hope Refreshed as famous Bible parables are retold as modern suspense stories. Six contemporary stories with dramatic plots and compelling characters in present-day predicaments deliver inspirational messages of wisdom, hope and redemption. If you like clean, entertaining Christian stories that inspire, you'll love Hope Refreshed!
In "Judgment Day," political party leader John confronts a major decision when he must choose between what his fiancée says is right and what his political allies need him to do.
In "The Good Sport," angry football fans gravely hurt Kyle, and when even his friends aren't there for him, he begins to wonder if anyone will help.
In "One in a Hundred," public school teacher Natalie introduces religion to a grieving student and is shocked at how poorly her good intentions are received.
In "The Bad Cop," alcoholic Officer Gomez suspects a respected religion professor of a crime, but will his own checkered past hinder him from doing his job?
In "Debt Forgiveness," Zack is a savvy, financial guru that will stop at nothing to prove a childhood bully wrong.
In "The Happy Dishwasher" Alex abruptly leaves the family restaurant business on bad terms and wonders if his father will ever forgive him.